Exhibit showcases BFA students' work
Bachelor of Fine Arts students will display their final senior project during the BFA Art Exhibit from 6 to 8 p.m. May 6 to 11 in the Crossman Gallery.
In order to graduate with a BFA, students must go through two processes: an entry review and the upcoming final review.
This semester, in order to complete their final review, 10 students will display different forms of fine art, including ceramics, painting, drawing, book arts, sculpture, metals and computer assisted design.
The students with art displayed in the upcoming exhibit are Kyle Hendrix, Tabitha Dankert, Rebecca DeVries, Kara Slamka and Madeleine Forter.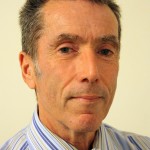 Director of the Crossman Gallery, Michael Flanagan, said this exhibit is one of the first chances for students to display their work in a large gallery setting. Most have been in at least two previous shows, but they would have been smaller group shows he said.
"The art exhibit gives students the opportunity for their first attempt to display work in a unified manner," Flanagan said. "If you're going to be a practicing artist, you need to get [your work] out there for people to see. If nobody ever sees them, the circle hasn't been completed."
Laura Moskal, a senior graphic design major, displayed her work in last week's first installation of the BFA exhibit.
"Being able to display your work as an artist is a big accomplishment, and I'm really proud of my show," Moskal said.
Moskal said she thinks the work she has done for the exhibit and at UW-Whitewater will get her the graphic design job she wants.
"Being in the BFA program has really pushed my work as a designer to be ready for the real word," Moskal said.
Flanagan said the work presented in the exhibit must have been created after their entrance review, which usually occurs during the student's junior year.
The pressure of creating all new work with limited time for a show is similar to a real life situation a professional artist would see, Flanagan said.
Moskal said she created her show for the exhibit all within the 2013 spring semester.
"When I wasn't in class, I was working on my show," Moskal said.
On top of creating their own original work, the BFA art exhibit gives the students the chance to work as group to make a unified gallery display, Flanagan said.
"It's five individual parts, but it's also a whole exhibit," Flanagan said.
Flanagan said the students need to know how to create art and how to work as a group to make a cohesive display.
"They need to understand how to frame, matte, and make it look good," Flanagan said. "We want them to leave with those skills."
Moskal said working as a group to create the gallery display was a "really great experience."
"We are fortunate to have a very diverse group of artists," Moskal said.