Cross Country: Runners eye nationals
By Justin Woodard
The stories of the men's and women's cross country teams at UW-Whitewater heading into the 2013 season are quite different. While the men return everybody from last season, including top runners in Dawson Miller, Kevin Buntman, Quinn Farley, and Matthew Rudquist, the women lose five of their top eight runners from last season, including All-American Alyssa Duncan.
Coach Jeff Miller has been pleased with the training and conditioning on both the men's and women's side, but he believes the men may be a little more prepared to make a run at Nationals.
"We are definitely better than last year, but it is going to be difficult," Miller said. "We might be mentioned in Nationals talk."
Miller says the top four on the men's side are pretty much set as the same from last season, but there will be a battle for the fifth spot among many contenders.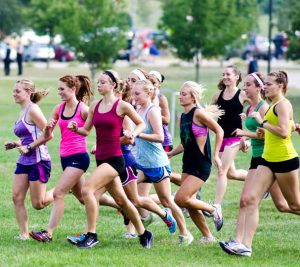 Those battling for the fifth spot include freshman Ryan Mindham, sophomore Scott Wolter, and sophomore Kent Miehe among others.
"We will find out in two weeks when we go to the Roy Griak Invitational where we are at," Miller said.
Junior Dawson Miller is coming off an All-American season as a track runner, and he hopes to improve as a long distance runner this season.
"I have always been more of a track and mid-distance runner, but during my last two years of collegiate running I have showed myself that I can move up in distance and still compete at a high level," Miller said. "I have worked on endurance training this summer more than ever before, so I hope to improve even more this year."
For the women, they stand on the other side of the fence when it comes to competing with the top schools in the state.
"The women's team is probably not nationally ready, but we are looking for continued improvement," coach Miller said. "They have an unrealistic chance because it's hard to upset stronger teams. We are not thinking about that, just development."
Even though the women lost over half of their top runners from last season, many freshmen from last year come back as stronger sophomores looking to move into those top spots.
These returnees include Mary Kate Bernier, Jaclyn Rowe, and Amy and Emily Kahl among others.
That first run as a collegiate athlete can be nerve racking and Amy Kahl hopes to enter meets this season with a few less butterflies.
"I learned that being nervous only hurts my performance, so I have learned to control my attitude," Kahl said. "I now look forward to races, and I don't worry about what could go wrong."
"By the beginning of the season, we will have a solid five guys," coach Miller said. "It would be a huge step for the women if they could be better than last year."