A college student's guide to holiday shopping
Dec. 4, 2013
By Samantha Jacquest
Haven't started your holiday shopping yet? Don't have the funds to get something for everyone on your list? Not to fear – I'm here to save your  gifting reputation.
Personally, I have 14 people to shop for and probably one or two more that I forgot about. I am a college student; there's no way I can afford to hand out that many gifts every year, so I decided to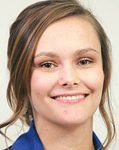 change my ways and stop spending up to $60 on each person (yes, I really used to do that).
So I took to Pinterest and found some amazing crafts I was able to create for very cheap that I know my family and friends will love. And now, I've decided to share these ideas with my fellow struggling college students.
I spent around $50 and was able to make gifts for five people and counting. The supplies I bought ranged from less than $1 to $10, but I was able to use most of it for multiple projects. Some of the crafting supplies came from Wal-Mart and Hobby Lobby, but most of it came from thrift stores around Whitewater.
Here are some common supplies that can be used for multiple craft projects at the prices I found them. The gifts you can create with these simple, cheap products are sure to please all this holiday season:
Vintage and wood picture frames, $2-$5 each
Fake flowers, $1-$5 per bundle
Tin/metal serving trays, $2-$3 each
Twine, $2
Chalkboard spray paint, $8
Hot glue gun with extra glue sticks, $10
Rubber cement, $3
Multiple bottles of glitter, $3 each
With these crafting supplies, I've made four sets of candle holders, two unique picture frames, mini chalkboards and a flower portrait.
I'm not stopping there. Check back to RoyalPurpleNews.com for more gift ideas as I create them and provide you with step-by-step instruction on how to make them. Happy crafting!
Flower portrait:
Wine glass candle holders:
Home decor chalkboard: