Readjusting your habits to improve new semester
Jan. 22, 2014
By Haley Beets
Whether a student is in elementary school or a senior in college, the first day of school comes with a sense of dread. Nocturnal Netflix binges are no longer an option, and neither is sleeping until 1 p.m..
Adjusting to a school schedule and the homework that accompany it takes time. With the right habits, getting back into the swing of school doesn't have to be painful.
Wellness Coordinator Whitney Henley said the first step to a successful second semester is being organized, which includes making sure you're in the right place at the right time and fully prepared.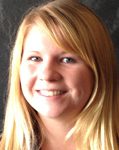 Some resources to stay organized include apps, calendars and daily agendas, Henley said.
Another recommendation from Henley was taking time to figure out your schedule for the upcoming week. Schedule due dates for schoolwork as well as events with friends.
Bigelow Hall Resident Assistant Cassie Steiner said that scheduling helps her stay on task.
"If you schedule in a routine for library time, for instance, you are much more likely to study regularly and utilize that resource," Steiner said.
Henley suggested setting due dates earlier than they need to be for projects or assignments. If it's not ready by that date, there's a built-in cushion.
"Finding ways to not procrastinate is so helpful for college students," Henley said.
Stress is a problem that most students face. It can cause headaches, fatigue, nausea and trouble memorizing things.
If organization isn't solving your stress woes, there are a couple actions to take that Henley called the "free three"- nature, music and laughter.
Watching silly videos online won't get your work done for you, but it will help you relax and get a fresh perspective.
Getting enough sleep is another step to easing into the new semester.
A University Health & Counseling Services survey of UW-Whitewater students found that 52.5 percent of students did not get enough sleep to feel rested during most of the previous week.
Going to bed at 9 p.m. every night is not a realistic goal for most college students. Henley said the best way to get accustomed to a sleep schedule is to wake up at the same time every day.
You also can train your body to recognize the bed solely as a place for sleeping. Avoid sitting in bed while you're doing homework or playing games.
"If you must do other activities in your bed, make your bed and sit on it in a different way," Henley said. "This will train your body to know that once you are snuggled under the covers, it is time to sleep."
Henley's final tip is to turn off your phone so your sleep cycle is not constantly interrupted. The light emitted from technology is disruptive to the body's internal sleep cues. Henley said it is best to stop using technology 30 minutes before bed.
While going back to school may never be as fun as winter break, these tips should make it more tolerable. With a little sleep and some organization, this semester will be better than your last.