Feb. 26
By Vesna Brajkovic
The unrest in Venezuela led one UW-Whitewater student organization to shed light on the student protests that broke out this month.
Students protesting on the streets of Venezuela have been demanding better security, an end to goods shortages and freedom of speech.
The passive protests that have transformed into riots were fueled nationwide by major social and economic problems in the country.
On Feb. 12, three people were killed in the protests, including two opposition members and a government supporter, according to the Associated Press.
The UW-Whitewater International Student Association (ISA) has responded to these protests by starting a campaign called the Free Venezuela Project to raise awareness of the situation.
"As international students, we all have to be supportive of each other and help raise awareness on campus," ISA Secretary Angie Agreda-Zamudio said.
On Feb. 20, ISA invited students and other student organizations to take a picture with a banner that read: "We attend the University of Wisconsin-Whitewater and we care. #Prayforvenezuela."
As part of the campaign, ISA also encouraged students to submit their own pictures holding a banner saying, "I am from ___ and I care. #prayforvenezuela" and to set it as their profile picture on Facebook.
ISA President Estefania Mora said the importance of the effort in Venezuela is great.
"I think sometimes we're so busy with classes and we are not aware of anything other than what's going on right here," Mora said. "I think [the campaign] will make an impact."
The Venezuelan government has control of most of the country's radio and television airways. The main communication for the protestors was through Twitter and Facebook.
Twitter confirmed last week,  the Venezuelan government censored certain user's online images, according to usatoday.com.
"If you're not with the government, then, they pretty much don't let you share any information with the outside world," former ISA President Daniela Carrera said. "I think one of the most important things, since it's even hard for [Venezuelans] to know what's going on in their own country, is for people outside the country to be sharing everything that's happening and spreading awareness through campaigns like this."
Two current members of ISA  and UW-W graduate Daniela Carrera are Venezuelans, so it really "hit home" for the organization, Mora said.
Although Carrera graduated from UW-Whitewater in December, she came back for the campaign to share her story and help spread awareness because she feels it's her "responsibility" as one of the few Venezuelans in Whitewater.
Carrera, who moved to the U.S. when she was 16 years old for a "better future," said she still has her mother and younger sister in Venezuela dealing with the "dangerous situation" outside their door.
Two days before the protests started, Carrera said her mother just got out of surgery.
"She can not walk. She can not run," she said. "My little sister is only nine years old, she should not be worrying about her safety or whether or not she's going to be able to go buy food. It's really hard, especially for my mom because she can't really do anything for herself or my sister in case something happened."
Carrera said even though her family is not in a bad area, there's still shooting on the streets.
"It doesn't even matter if it's the really poor areas or the really rich areas," Carrera said. "They're shooting at houses, people who aren't even on the streets. It's really bad."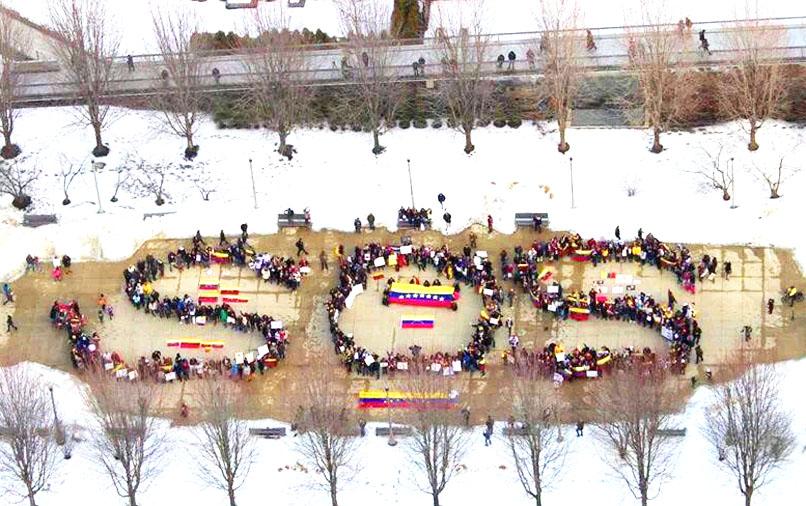 Members of ISA, along with Carrera, went to Chicago to protest the "brutal repression" of Venezuela on Feb. 22.
Dozens gathered there holding signs that read "S.O.S Venezuela," NBC Chicago reported.
From Chicago, Miami, to Whitewater, students across the nation are aiming to spread the word about the protests in Venezuela.