How to get your fit on in Whitewater: Fitness realm offers students variety of options
By Amber Levenhagen
Sept. 24, 2014
A new semester brings new choices for students choosing fitness and health as part of their semester. Whitewater has several options to enroll.
SnapFitness, Anytime Fitness, and The Williams Center/Kachel Fieldhouse are the primary options that students appear to choose. A membership offers the ability to utilize each facility, but varies depending on each gym.
SnapFitness
SnapFitness, 327 W. Center St., is open 24 hours. In the last two weeks, 33 Whitewater students have signed up for a membership, according to operations manager Nick Cooper.
Memberships are offered monthly and yearly, with a $5 monthly discount offered to UW-Whitewater students and faculty. Family and joint plans are offered as well, giving the option of putting multiple people on the same bill.  A monthly membership is offered for $36.95 per month.
"We have 24/7 hours, which isn't offered on campus," Cooper said. "We offer month -to-month memberships; you can be here as many months as you want. It's all up to you, on your time, whatever you personally want."
Included in the membership is a gym that has free weights, cardio machines, yoga equipment and four HD televisions.
An additional monthly fee of $16.50 plus tax gives unlimited access to tanning booths.
Facility rules include cleaning up equipment after each use and dressing appropriately, according to Cooper. Proper athletic shoes are required, and sleeveless shirts are allowed.
SnapFitness membership holders are able to use any of the other 1,400 facilities worldwide.
Anytime Fitness
Anytime Fitness, 1139 W. Main St., is also a 24-hour facility. A monthly membership is $44, an 18-month plan is $39 per month, and a two year plan is $35 per month. Student discounts are offered with a choice between the first month of a membership with no charge, three free months of tanning or three free personal training sessions.
"We're a 24-hour facility, which appeals to a lot of students. Not everyone can fit in a workout before the campus gym closes," said Johnny Lang, manager at Anytime Fitness. "People can come here at two in the morning and still get their workout in."
Lang added that approximately 60 percent of their members are Whitewater students.
Additional costs for personal training sessions vary, and unlimited tanning is offered for $9 a month.
Cleanliness, according to Lang, is an important rule. Clean shoes and cleaning all equipment after use is required. Sleeveless shirts and headphones are allowed.
Rockbot – a music player that takes song requests via a mobile app – is also available to use.
SnapFitness and Anytime Fitness are not staffed throughout their entire operational period. Both facilities are equipped with a security system that allows members to access the building with unique key passes.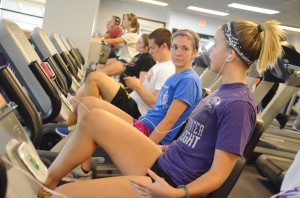 The Williams Center
The Williams Center/Kachel Fieldhouse has regular week day hours of 6 a.m. to 11 p.m. and varies on weekends.
Memberships are offered for one semester, two semesters, annual year or summer only. They currently have 6,500 memberships, according to Jen Kaina, Assistant Director of Fitness and Aquatics.
"It's a no brainer, you get more bang for your buck," Kaina said. "Here, fitness is a choice. There's no hidden fee. You can choose the membership that fits best for you. You can choose to be a part of it if you want to be."
Memberships are available in gold, silver, group fitness, cycling, and fitness packages.
A gold membership includes use of the entire facility, including the weight room, fitness center, group fitness classes, cycling class, swimming pool, fieldhouse and racquetball courts. For two semesters the cost is $295.
Silver memberships allow use of the swimming pool, fieldhouse and racquetball courts. For two semesters the cost is $145.
Group fitness allows members to join any of the classes between group fitness and cycling. A cycling pass only includes cycling classes. These passes are available by semester. Group fitness costs $65 and cycling costs $30 for faculty and students.
A fitness membership allows access to the weight room, university fitness center, group fitness classes and cycling classes. For two semesters, this costs $100 for faculty and students.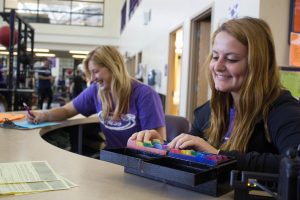 Williams Center rules are: cutoffs and tank tops are not allowed, headphones are not allowed around strength equipment. Cleanliness, including re-racking weights and cleaning equipment after use, is also a rule.
Students weighed in on the debate.
Some, like junior Heather Bleuel, are concerned with the price of a membership.
"I do not have a membership," Bleuel said. "I did my freshman year, but then I had to choose between having a car here and a membership. I could only afford one or the other."
Student athlete and sophomore Haley Precia utilize the campus fitness center because of convenience.
"I'm on the track team so it's easier and more convenient to work out here and I have to anyways, but I would probably choose it [over other gyms] because it's cheaper here and it's a good facility," Precia said.
Varsity athletes have special priority times at the Williams Center. From 6 to 8 a.m. and 2 to 6 p.m., priority use of squat racks, strength equipment and platforms are granted to athletes.
Fifth year senior Kyle Moore has a membership at the Williams Center.
"This gym literally has everything you need, and has a wide variety of it as well," Moore said. "Also there's a big social gathering of people who come here, so once you establish yourself in that activity you care about, you never want to leave."
Upon remarks made about the Williams Center being too crowded, Moore added:
"A lot of people feel like when they're just beginning, they don't want to come in here because they see people who are more established. The thing is, you need to get past that intimidation factor. I was once there too, seeing a lot of people out lifting me. Once you get past that, it's perfectly fine, because you're able to get to that level of hard work."