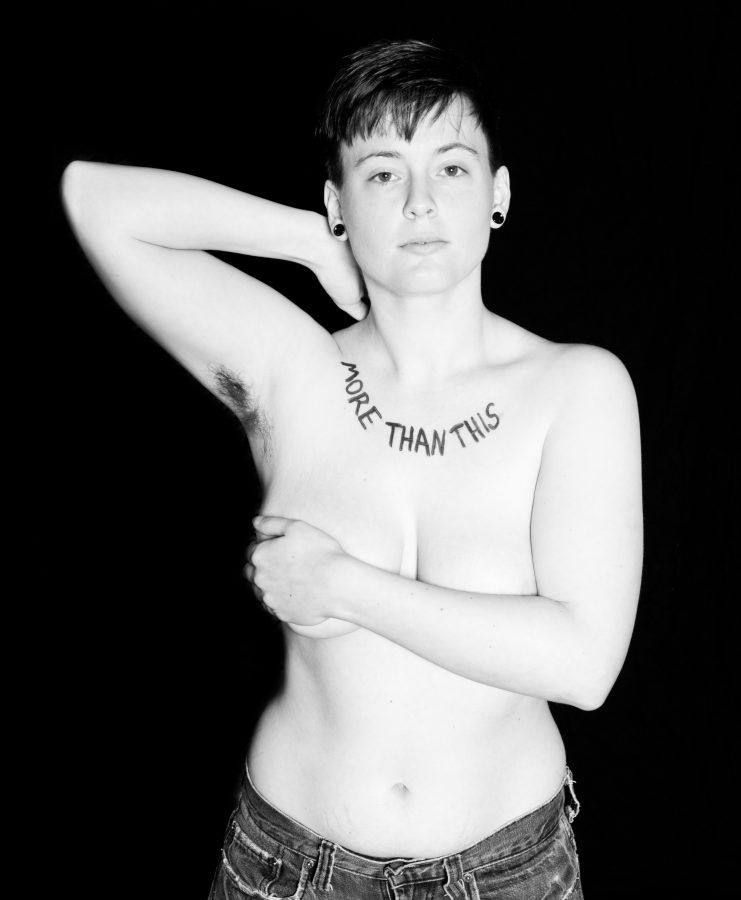 By Jake Prinsen
A local photographer is tackling society's standards of beauty towards women with an exhibit that promotes acceptance and self-love.
Katy Daixon, owner of Katy Daixon Photography in Whitewater, will be exhibiting a series of photographs at the Whitewater Arts Alliance's Cultural Arts Center.
The black and white photographs depict a diverse selection of women, each with an affirming message written on her body to create a mission called "The Body Project."
Daixon said she started the project after being frustrated by body positive movements that don't include all types of women.
"It's either skinny is in, or fat is in or fit is best," Daixon said. "I presented the idea to friends and family to take photos of women positively affirming the body parts they are least secure with and have them write open, honest letters to me telling their body story. It spread quickly."
UW-Whitewater alumna, Daixon, graduated with a Bachelor's degree in creative writing. She said her goal has always been to combine her passion for creative writing with her skills in photography, and "The Body Project" allows her to do just that.
"I want people who see this project to think twice before they judge each other or themselves," Daixon said. "And of course, to take home a little piece of their own body acceptance and self-love."
Marjorie Stoneman, a communications volunteer for the Whitewater Arts Alliance, helped spread the word about the exhibit and said Daixon's project is amazing.
"Katy has a fascinating story to tell, and I think it's a great project for people to know about," Stoneman said. "I think it's a really cool show."
Daixon made an appearance on UW-W student radio WSUW, 91.7 The Edge, and spoke with Stoneman more in depth about the project.
"She shared with me what she was involved in and how she got involved in this project," Stoneman said. "It's great that it reinforces positive body images."