Gallery mends art and care together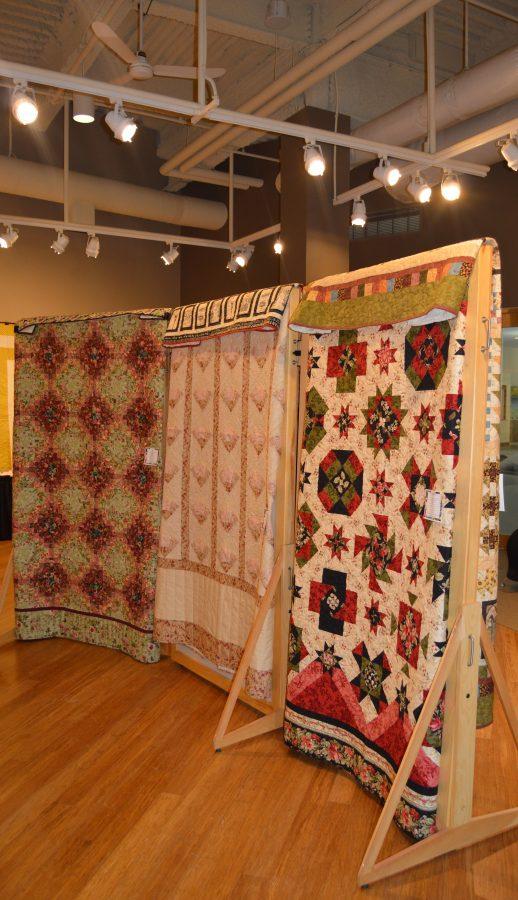 We Care Quilts exhibit features much more than a love of quilting, it shows a passion for giving back to the community.
The quilts were made through a variety of outlets. While most of them were created for the artist's own pleasure, others by a quilt store, a select few were designed by an organization for charity.
"WE CARE is a secular organization at the First United Methodist Church," Terrie Parenteau, WE CARE artist said. "We meet Sunday afternoons and students stay until 6 p.m. We never know who's going to be there; the Women's Rugby team, Zi Pheta and other organizations bring people sometimes."
Parenteau said UW-Whitewater students are willing to work while taking a risk, all while learning something new.
The quilters don't always follow a pattern; even if they are ambitious they often don't finish a pattern once started, Parenteau said.
"It depends on how large the quilt is; the girls finish it in three weeks, sometimes it takes a little longer," Parenteau said. "We don't know what we will have. We get a garbage bag full of fabric like sterile denim. We don't do it for anyone in particular."
The quilts are donated to families of selected societies.
"The organization donates, but we don't see the people who are getting the quilts," Parenteau said. "I like the idea of not being seen when we donate to the Association for the Prevention of Family Violence. There is no judgment."
Parenteau featured her work at the reception and gave a talk about her organization's purpose and mission.
Capes for Kids are quilts with the handprints of children sewn into the fabric.
"It's called 'We've Got Your Back Capes'," Parenteau said. "I go back and get the handprints of the second graders for next year's third grade class, it is an anti-bullying thing."
Another quilt contributer is The Linus Project, a nationwide oganization that makes quilts for kids.
They provide quilts for youth, those who are hospitalized, survivors from community disasters, etc.
Quilt artist Kari Newell, owner of Kari's Sew Unique, also provided quilts for the show.
Newell said she brought seven quilts to the gallery.
"The [exhibit is an] opportunity for young people to see the quilts and say 'oh my grandmother did that,' Newell said. "I want them to take away the fact that they are traditional, contemporary quilts and not just the quilt that lays on the bed. We've shown modern quilts and panel quilts."
We Care Quilts runs Jan. 21 through Feb.19 in Roberta's Art Gallery. Hours are Monday through Thursday 10 a.m. to 6 p.m., Friday 10 a.m. to 3 p.m. and closed Saturday and Sunday.