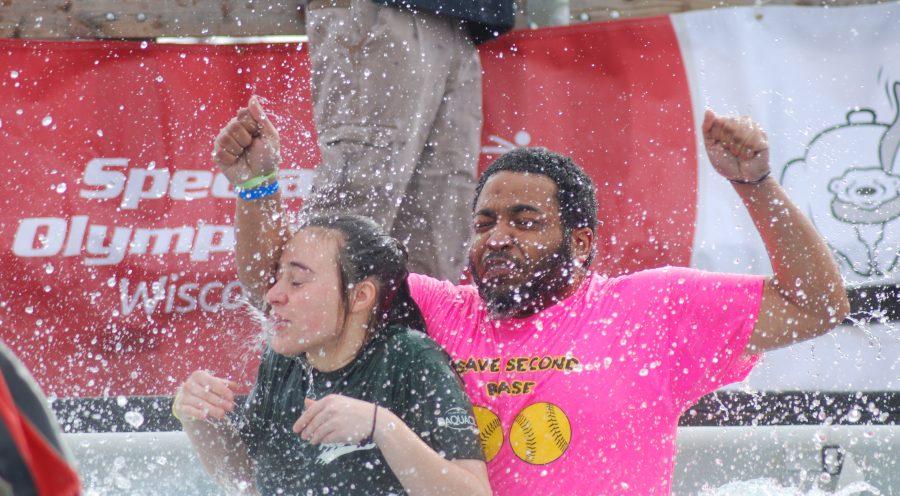 Feb. 18, 2015
By Alexandria Zamecnik
Imagine there's a wind chill of -10 degrees and someone tells you to jump into an 18,000 gallon pool of freezing water.
This was the challenge more than 200 people accepted to raise money for Special Olympics Wisconsin.
More than $69,000 was raised for Special Olympics Wisconsin at the annual Whitewater Polar Plunge on Feb. 14 — $14,000 more than raised a year prior.
Regional Director of Development for Special Olympics Brittany Neukirchen attributed this increase to having more teams that raised more money.
Milton High School raised more than $10,000 while JP Cullen raised approximately $9,000.
Despite the freezing temperatures and the possibility of a cancelled event, Neukirchen said it went as smooth as possible with the plummeting temperatures.
"Everyone had a good time with it," Neukirchen said. "We rushed [the plunge] a little bit. We had people in and out really quickly, just to make sure people were safe."
With a steady increase in money raised throughout the past few years, Special Olympics Wisconsin hopes to raise around $75,000 next year.
"I think bringing in some new teams would be awesome," Neukirchen said. "We've got a lot of people plunging year after year, so I think it would be awesome to get some new teams, some new faces."
One of those teams who has plunged year after year is Pi Kappa Alpha Fraternity. Pi Kappa Alpha raised $2,035 in online donations alone placing seventh on the list of top teams.
Among the Pi Kappa Alpha team was Anthony Scardina, a freshman majoring in social work and minoring in special education. Scardina said he raised $300 for the cause for several reasons, but the most important being that the Special Olympics are really important to him.
During high school, Scardina had the chance to become involved with Special Olympics and that passion followed him into college.
"I instantly fell in love with coaching the kids," Scardina said. "I mean, who wouldn't? They would get the biggest smiles you'll ever see and the amount of excitement they showed when they did something as simple as make a basket or serve the ball over the net is indescribable."
Scardina plans on taking that love he shares for the Special Olympics and creating an organization at UW-W.
AJ Arshem, a senior majoring in marketing, raised $225 for the Plunge and admitted his initiative to raise the money was being an adrenaline junkie. Arshem said he loved the idea of doing something dangerous to support a great cause.
"After I hit the water, I rushed to the edge of the pool as quickly as possible," Arshem said. "My legs moved really slowly, and I got really tense. Once I got to the tent, though, I didn't feel cold anymore. It was a very strange sensation."