ROTC program leads to opportunities
March 11, 2015
By Vesna Brajkovic
Students in college are defined by either their involvement in an organization, major or lifestyle. But students enrolled in the UW-Whitewater ROTC program are defined by their common goal: military leadership.
The Reserve Officer Training Corps (ROTC) is a four-year program that develops students into Army Officers, in either the active, reserve or National Guard, through physical fitness, discipline and leadership training.
UW-W ROTC allows students to stay on the path to becoming an officer in the Army while continuing their education.
Currently 35 students are enrolled in the Army ROTC program, and four in the Air Force branch of ROTC, according to Barbara Klietz, University Service Associate of the Leadership, Military Science, Aerospace Studies department.
"The end result [of ROTC] is to become an officer in the world's greatest Air Force and military," junior Air Force 300 cadet Brienna Herdrich said. "I have gotten so many leadership opportunities, along with positions that challenged my teamwork and followership abilities."
The ROTC elective Basic Course takes place during the first and second year of college. It involves one elective class and lab each semester, paired with physical and field training exercises. In this course students can learn the fundamental military skills without a military commitment.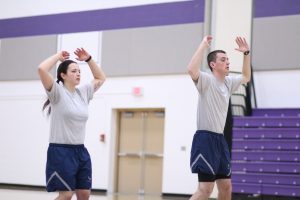 If  students do not take the Basic Course, but are interested in ROTC, they can enrolled in the Leadership Training Course (LTC). The LTC is an  accelerated version of the Basic Course that takes place over four weeks in the summer at Fort Knox, Kentucky
After the completion of the Basic Course, or LTC, Cadets qualify to move onto the next step, Advanced Army ROTC.
If a student decides to make a commitment to serve as an Officer in the Army after graduation, they move onto the Advance Course, which takes  place during the second and third year. In the Advanced Course, students learn advanced military tactics and gain experience in organization,  planning and decision-making. This course includes one class and lab each semester, as well as a summer leadership camp.
After the completion of Army ROTC, students earn the Gold Bar of a Second lieutenant.
ROTC cadets are required to serve for eight years after graduation in the active Army, Army National Guard or Reserve Army.
Senior Michelle Staude, a MSIV cadet, is set to be commissioned into active duty in May, the day of graduation.
Staude said the nature reserves make UW-Whitewater a great training environment for the ROTC program, because in inner-city schools, like UW-Milwaukee, there are limitations, like not being able to carry around dummy rifles during training.
Students enrolled in college can receive ROTC scholarships that may cover up to 100 percent of their tuition, plus a $1,200 annual book allowance.
The Army ROTC offers four-year, three-year and two-year scholarships based on merit, rather than financial need.
Being part of the Air Force ROTC, students must travel to UW-Madison, where UW-W ROTC is partnered with, for specific training.
For more information on the ROTC program, visit goarmy.com/rotc.