Ed Karrel's story of Pi
April 01, 2015
By Rumasa Noor
From becoming Google's 56th employee to calculating pi to its ten quadrillionth digit, Ed Karrels has achieved quite a bit in his life.
UW-Whitewater's Office of Innovation Services invited the UW-Oshkosh alumnus as a part of the Elements of Success Seminar series to speak at the Innovation Center on March 26.
Karrels became an employee of Google in 1997. He worked on the advertising side of the company.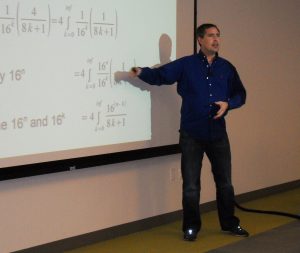 He left after it went public in 2005, according to Innovation Center information.
In 2012, he made a new record of calculating pi to its ten quadrillionth digit, which is the highest number of pi calculated to this date.
Process to calculate Pi
Pi is a mathematical constant that has an infinite number of digits.
Karrels said he was always interested in computing pi since he was a child but at that time he didn't know how to calculate it.
After retiring from Google in 2005, he decided to utilize his free time by figuring out methods to compute the digit.
His hard work paid off when, after several months of researching the formulas, he was able to figure out the math to compute the number.
Karrels used a Graphics Processing Unit (GPU) for computation instead of using a traditional CPU to increase efficiency.
He used Compute Unified Device Architecture (CUDA), "a programming system that lets you offload work from the main processor to the graphics card(s)," according to his website.
Before Karrels, a team from Yahoo! called Hadoop held the record for computing the constant to its highest value in 2010.
Hadoop used 1000 computers to calculate the digit while, Karrels only used one home-built computer from his garage to do the job.
Career at Google
Karrels became a part of Google when it was a brand new company. It now employs more than 53,000 people. When he joined Google, it was expanding its employee base by adding four employees each week.
Karrels said he had no idea it would become such a huge corporation, considering many existing search engines were already out there.
Karrels' recent endeavors
Karrels currently works with a Whitewater-based company named, Blackthorne.
"He has seen and solved a lot of problems and he has got a different perspective and all of that is already paying off," said Aaron Tronnes, software programmer at Blackthorne.
Advice for students
Karrels advised students to develop a great work ethic and make themselves known to be trustworthy.
"Impress your coworkers, do a good job with what you do, don't make a big show of doing a good job," Karrels said. "Just be responsible, reliable. I found that if you get to be known as someone who is intelligent and reliable and creative, people want to work with you and that will lead to better jobs."
He recommended students take advantage of internships as much as possible.
Karrels also suggested that students should read Chris Hadfield's book, Astronaut's Guide to Life on Earth, which is about a boy with an enormous curiosity and thirst for knowledge, who sees everything from an astronaut's perspective.
To learn more about the process of Karrels' pi calculations, visit karrels.org/pi.