Disposal service urges reduce, reuse, recycle
By Vesna Brajkovic
April 22, 2015
After one father mistakenly placed an envelope holding $700 of his daughter's Girl Scout money in a pile of recycling on collection day, John's Disposal Service, Inc. received a frantic call.
As the sole vendor for the entire city of Whitewater, it may have been safe to assume that Thin Mint-covered money was gone forever, smashed between a cardboard box and a hard place. But the Girl Scout troop was able to stop by and sort through the days collected paper and within a hour of sorting returned the money to its owner.
John's Disposal Service sorts through all kinds of garbage and recycling, but it's usually to separate different materials for recycling and process, not to find a wad of cash.
"It truly does pay to recycle," Safety Manager Brent Flikkema said.
UW-Whitewater alone produced an estimated 800 tons of garbage and 300 tons of recyclables in 2014. Through RecycleMania, a residence hall competition hosted by Residence Life which encourages increased recycling, the 2014 recycling rate was 32.41 percent, according to a sustainability presentation by Sustainability Coordinator Wes Enterline. This is an 11.3 percent decrease from 2013, which had the highest recycling rate in recent years.
As the municipal vendor of the UW-W campus for the past 32 years, John's Disposal Service has noticed some reduction of certain waste, according to Flikkema.
"The trend that [UW-W] has now in terms of having people in location when there is a move-in and move-out has made a tremendous difference in terms of cardboard being saved," Flikkema said. "There are things that make a difference, certainly. When you give up on all those things and it's a free-for-all, it's really ugly."
Keeping materials out of the land fill is a point that Flikkema tries to promote through his talks about the value of a Reduce, Reuse and Recycle program, which he gives schools and other groups in the communities in which they serve. These include Walworth, Dane, Milwaukee, Jefferson, Kenosha, Racine, Rock and Waukesha counties.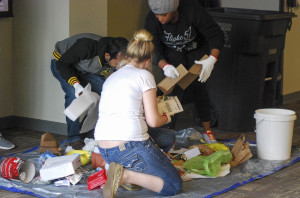 As part of the 2015 Sustainability Speaker Series hosted by Residence Life, Flikkema presented his talk to eight students and residence assistants on April 9 in the University Center, which focused on encouraging students to recycle no matter where they are.
Flikkema called five volunteers from the audience to sort through a trash bin of mixed recyclables and 'garbage' to demonstrate the possible struggles, confusion or questions students had about what could be recycled.
"When doing the activity I didn't realize – actually a lot of us didn't realize – that everything that was laid out on the floor, honestly could have been reused or recycled," said senior Princess Hopgood, who was a volunteer for the activity. "It just had to be disposed a certain way. It opened my eyes to asking more questions if I am uncertain about being able to recycle something. By all means, I don't want to make John's Disposals job harder than it already is by not recycling properly, I would like to make their job as easy as possible."
Flikkema said he encourages anyone with a question to call information at (262) 473-4700 or contact them at johnsdisposal.com.
"Personally, I believe that John's Disposal is a good choice for the campus," Hopgood said. "The company's whole operation seems to coincide well with what UW-Whitewater is trying to do, and become known for; going green."