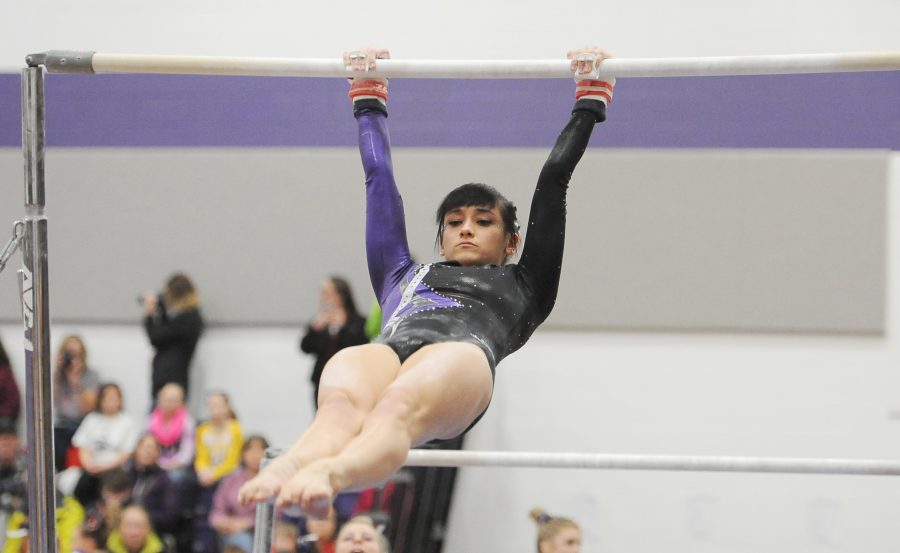 April 29, 2015 By Connor Moore
If you ask anyone who is a part of, or simply around, the UW-Whitewater gymnastics team, they will all tell you that there is a genuine feeling of togetherness and family. It's that same feeling that senior Stephanie Cross didn't feel during her time spent at Seattle Pacific University.
"My experience there wasn't very fulfilling," Cross said. "It kind of felt like I was just in the background. Over the years there, I began to lose my love for gymnastics.
Cross, who said that by her senior year at SPU she was just about ready to be done with the sport for good, said that her experiences led her to question using her extra year of eligibility granted to her after an ACL tear forced her to miss competition in her sophomore year.
At the same time, she wasn't sure if leaving SPU was a good idea.
"I wanted to do another year at Seattle because I didn't think anyone else would take me," Cross said. "But then I realized, with the help of my dad, that I should probably go somewhere else where I would feel more of a part of a team."
It's the realization that impressed head coach Jennifer Regan.
"For her to even pick up and leave a school for gymnastics, that's huge," Regan said. "She would have graduated this year at Seattle Pacific, and for her to sacrifice all that for just an opportunity to be on a team and compete? To me, you're leaving everything you've known for the past four years. I don't know if I'd be able to do that. I think that speaks volumes."
Cross admitted that at first, she was looking at transferring to UW-La Crosse since she heavily considered going there originally.
Upon coming to Whitewater over the summer for a camp, Cross immediately noticed one thing about the team.
"The bond that all of the gymnasts had with each other," Cross said. "They were all friendly, and it didn't seem fake at all. It was genuine. They cared about me even though they didn't know me. They talked to me and helped me around if I got lost. Everyone cared, and you could tell that they were passionate about gymnastics and each other."
Cross then explained more about her experience at SPU, often saying some teammates wouldn't support others and wouldn't be the nicest of people.
Admittedly, junior teammate and friend Steffi Heuer said that was what she thought Cross would be like coming from a Division-II school.
"Knowing what I know about D-I and D-II gymnastics, a lot of the girls there are mean mostly," Heuer said. "Those girls have to fight for positions, and it's vicious. At first, you're kind of apprehensive. Honestly kind of scared. But 'Scross' is one of the nicest people you could meet."
Heuer also admitted that she was concerned about if Cross would fit into the team, given the already strong bond and based off her previous experiences dealing with gymnasts from higher divisions.
It was one night between the two hanging out that assured Heuer that Cross would fit in perfectly.
"By that weekend, when she came over to my apartment, it was like an instant connection," Heuer said. "After having a personal conversation with her, that's when I knew for sure."
Heuer said that since then, Cross has become one of her best friends.
Regan also had her own first impression of Cross at the camp.
"As soon as she stepped in the gym, she was ready to go," Regan said. "She was excited, wasn't nervous and very motivated."
Given everything she had to go through to reach where she is, Cross admitted the journey has been stressful.
"With the idea that I might not have been able to make it [on the team], I might not have all the skills they want me to have," Cross said. "But it also changed how I looked at D-III gymnastics. Looking around and watching all my teammates perform their skills, I was just amazed at the level of their skills. I was just so impressed. It made me love gymnastics even more."
For Heuer, the bond she and Cross have formed will go beyond this year.
"We're like sisters," Heuer said. "I know that 10 years down the road, if I ever needed anything, I can instantly call her."
As for Cross, she felt the family feel of the team couldn't be replicated elsewhere.
"These girls, these coaches, you can't find this anywhere else," Cross said. "To get to where I am now, I feel like I wouldn't have gotten that anywhere else. Everything was so worth it."