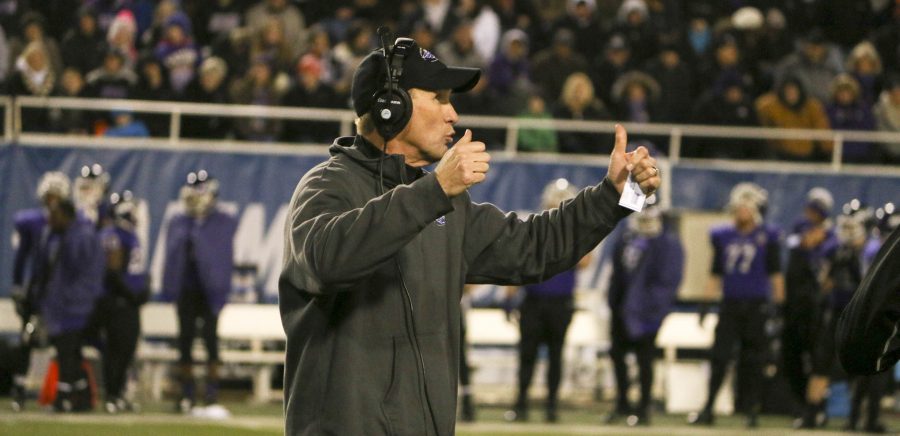 May 6, 2015 By Justin St. Peter
After an unprecedented string of success as the head coach of the Warhawks football team, Lance Leipold faced uncharted territory after not making the Division III playoffs following the 2012 season.
How did his team respond?
Two years later, the Warhawks wrapped up its second-consecutive undefeated season and won its sixth Stagg Bowl out of Leipold's eight years at the helm of the program.
"[Leipold] let us know winning and championships aren't just given to you, you have to earn them," former quarterback Matt Behrendt said. "The way he put that in our head, and turned this thing around the last two years, it really truly is amazing."
A few days after his latest Stagg Bowl victory, Leipold flew to the University of Buffalo to assume his new role as head coach, which he had accepted a few weeks before. Leipold had wanted to finish out the Warhawks season first.
Despite having left UW-Whitewater, Leipold has been named the Royal Purple Coach of the Year as voted on by sports staff writers. First-year wrestling head coach Ned Shuck took a distant second place with men's and women's tennis head coach, Frank Barnes, placing third.
"When those [awards] come out, I'm happy for the program and the players because it's the legacy that they are leaving," Leipold said. "I have never spent a lot of time reflecting on what those necessarily mean, other than that the players did a great job of absorbing what our plan was and trying to get better each day."
In his eight seasons in command of the Warhawks, Leipold compiled a 109-6 record and became the fastest coach in NCAA history to earn 100 wins this past season.
The Warhawks came close to not making the championship, though, with two late close contests.
In the regular season finale against UW-River Falls, the Warhawks required a Behrendt touchdown pass in the closing seconds to keep their undefeated regular season dream alive.
The 'Hawks then trailed 33-16 in the third quarter of the playoff quarterfinal matchup against Wartburg College on Dec. 6 before scoring 21 unanswered to pull away.
"Our team showed a lot of character and pride," Behrendt said. "Those are the two best words to describe it. It is just amazing how the team fought back and battled throughout so much adversity throughout the entire season, especially the playoffs."
Leipold wrestled with the decision to leave the Warhawks after being inducted into the Whitewater Hall of Fame for his playing career as a quarterback from 1983-87. His name is plastered all over the UW-W record books as a coach and player.
Leipold won the national championship his first year on the job in 2007.
"As much as we are proud of what we did at Whitewater, it was in excellent shape with Stagg Bowl appearances before I got there," Leipold said. "If I ever left, I knew it had to be a special situation. What I meant by that, a special opportunity with a lot of other factors. The opportunity to not only rebuild a program, but to build a program that would be consistent year in and year out."
Leipold said he still is in contact with players from the team and talks to new Warhawks head football coach Kevin Bullis regularly, but he is also trying to allow Bullis and his new staff time to get acclimated with the roster as well.
Although Leipold and his staff, many of whom he brought from Whitewater, may struggle at first, Behrendt believes Leipold will have success at the University of Buffalo.
"He's such a player's coach and is so humble with what he does," Behrendt said. "Everybody is so proud of him and knows that he deserved the opportunity to go there."