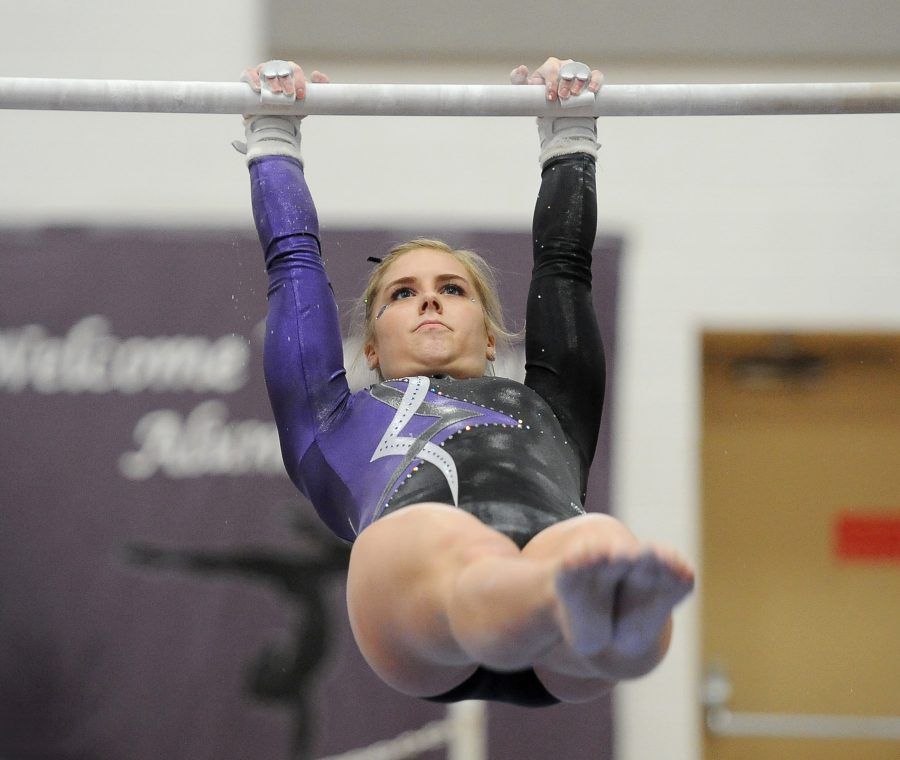 May 6, 2015 By Connor Moore
In a year that saw UW-Whitewater gymnast and sophomore Katie Fiorilli earn an impressive list of accolades and accomplishments, yet another one gets added on as Fiorilli, by a significant amount, was voted the 2014-15 Royal Purple Female Athlete of the Year.
Softball pitcher Bekka Houda and sprinter/jumper Lexie Sondgeroth, both seniors, finished second and third respectively in voting.
"I think this award speaks volumes because we have such great athletes here on campus," head coach Jennifer Regan said. "The accolades that all of our athletes have had this year are just amazing."
Regan then went on to credit Fiorilli's effort and hard work in practices and the summer as to how she defended her all-around national championship and winning a national championship in two other events (vault and uneven bars), calling the accomplishments and work ethic "amazing" and "impressive."
In addition to those accomplishments and winning the RP Female Athlete of the Year, this year Fiorilli took home three total WIAC honors, a First Team All-American in three events (vault, bars, all-around), the NACGC Co-West Region Gymnast of the Year and also became the only Division-III and UW-Whitewater gymnast to qualify for the NCAA Gymnastics Regionals in two straight seasons.
Fiorilli, when reflecting on this past season, took the same team-first approach that has made her so endearing to her teammates and coaches.
"I think it was a really great season," Fiorilli said. "We really came together as a team when we needed to, and it was really fun. We just continued to stay in the moment and do what we've been training for all year. All the preseason workouts really paid off."
Fiorilli went on to talk about the team's overall work ethic, saying that she feels the team couldn't have put in any harder work and gave the best they could despite the team's second-place finish at Nationals this season.
Assistant coach Ryan Bendixen said Fiorilli's drive, work ethic and team-first attitude really stand out.
"Katie is someone who never settles. Ever," Bendixen said. "If something doesn't go right, she'll go off to the side and do drills on her own, without being told. She doesn't stand around and wait until her next turn. I think that says more about an athlete than anything, because they aren't happy where they are even if they're on top."
Bendixen later said with all of these accomplishments, he isn't so much worried about how they'll effect Fiorilli's relationship with the team, rather the pressure to live up to the expectations each accomplishment comes with.
With that said, Bendixen thinks those very same pressures play into Fiorilli's advantage as far as how she'll handle them.
"I feel that that's actually when she's at her best, when everything is absolutely on the line and there's no giving up," Bendixen said. "That's when she really steps up. I don't get nervous about her when the stakes are high."
When it comes to the highly regarded team bond, Bendixen's role is also one that goes beyond the gym.
"For me, personally," Bendixen said, "I drive over an hour away. I also work a full-time job. I look forward to hanging out with these girls. I've told them that they are the reason I continue to do this. Everybody here is so tight."
Regan also added on to a coaching standpoint of the bond, saying that what people see is "just it," citing that nothing about the team's bond is fake.
Fiorilli echoed the same sentiments about the family-oriented bond that many of her teammates have talked about, also explaining how it personally helps her.
"I love knowing that I can look at anyone and immediately know that they have my back," Fiorilli said. "We really care for each other and we know everyone is here because we all share the same love for gymnastics. We feed off of each other's passion. They make everything much more fun."