Local pizza company initiates flour tussle
By Ashley McCallum
Lifestyle Editor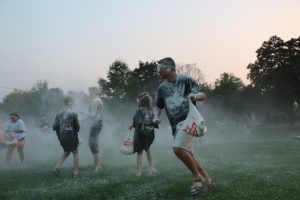 Starin Park resembled the scene of a Thanksgiving dinner gone awry Monday night when students and community members gathered for the second annual Flour Fight Night hosted by Toppers Pizza.
Participants gathered to hurl flour at one another and enjoy food provided by Toppers. The Whitewater-based pizza company hosted the event to kick-off the new school year while incorporating their fun-loving brand and products, according to Senior Field Marketing Coordinator for Toppers, Sydney Kuspa.
"I saw it on Facebook, and for people who are not freshman, there's not a lot to do," sophomore Ben Kuhn said. "I thought this was kinda cool. I had never heard of it before so I came, and it was a good time."
Over 30 people ranging in age and background came out for the flour-slinging showdown.
"We were all kind of sitting around, deciding what to do, and we thought it would be fun to come out and throw things at each other," junior Kaitlyn Bergmann said.
Flour Fight Night was held exclusively in Whitewater and is part of Toppers' Campus Tour, where Toppers employees travel to 19 different campuses to promote their pizza and introduce new students to Toppers, all while having fun. Employees use the tour to hand out menus, give away items and host events like Flour Fight Night.
"Multiple different events are going to be happening on campuses to promote Toppers and show that we are the cool guys on campus, we are the guys that can hook you up late night with food and show our uniqueness as well," Kuspa said. "We're different from the large competitors because we actually care about those that are coming into town."
Flour Fight Night was created by Toppers' founder and UW-W alumnus Scott Gittrich, who got the idea from a video of people throwing flour at each other on a beach. After watching the video, he sent it out to a group of colleagues and said he wanted to try something similar with students at Whitewater, according to Field Marketing and Franchise Development Associate Mac Malchow.
Since Toppers opened its doors in Whitewater in 1993, the company has grown to over 70 locations across the country and hopes to reach 700 stores in the next 10 years. Despite its growth, the company aims to remain true to its roots by giving back to the Whitewater community.
Toppers sponsors one of the baseball fields for Treyton's Field of Dreams- a set of baseball and softball fields that opened in 2014 in remembrance of a Whitewater boy killed in a drunk-driving accident. Gittrich and his company also donate food to the community and are quick to get back to those who reach out to him from his company's hometown.
"We do a few more things in Whitewater that we don't do anywhere else," said Malchow. "Whitewater holds a special spot in Scott Gittrich's heart. His company's success stems from how the Whitewater community embraced Toppers from the very beginning."
After two successful Flour Fight Nights, Toppers plans on continuing the event in the future and hopes to bring in more groups from campus as well as the surrounding community in future years.
"I'm always excited when we get to conjoin the community," Kuspa said. "We had a lot of different kids here and the campus as well. I would consider it a success."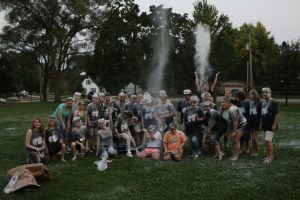 Photos by Amber Levenhagen