People of Whitewater: Amber Burgermeister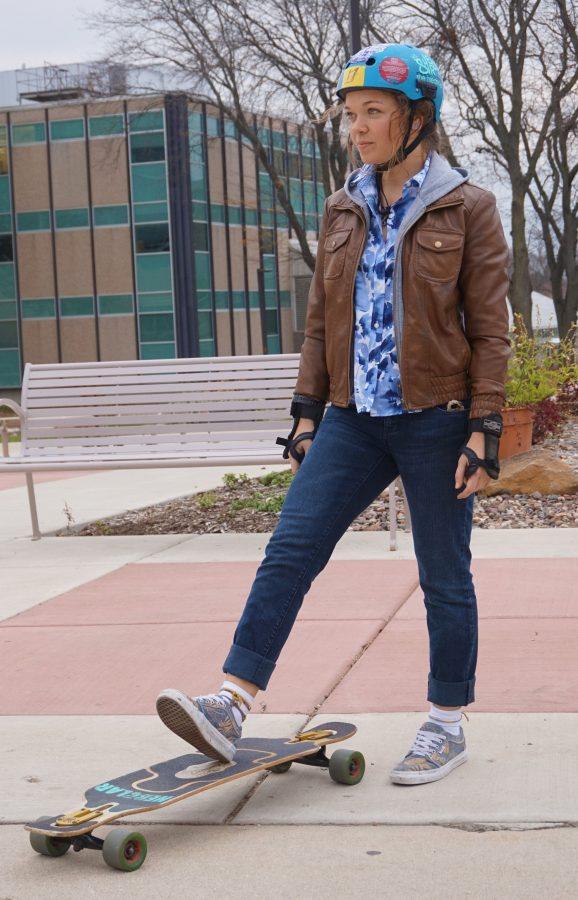 By Ashley McCallum
Nov. 18, 2015
Sitting in the University Center, senior music major Amber Burgermeister takes off her flannel over-shirt and lifts up her right arm, revealing her newest tattoo: a violin bow surrounded by wheel bearings.
The tattoo incorporates Burgermeister's two loves: violin and longboarding.
This summer, Burgermeister rented a van and went on a trip across the country with a group of other female longboarders that make up Girls Gone Fast. Girls Gone Fast is a group of female longboarders who aim to promote safe and fun longboarding while introducing women to the sport.
The group traveled to skate parks around the country including parks in Chicago, Denver, the Grand Canyon and Los Angeles. The trip ended at Maryhill Loops Road in Washington, an area made for longboarders that Burgermeister calls "God's hill for longboarding." The ladies participated in the Maryhill She-Ride, an all-female, non-competitive  skating event that welcomed female skaters of all levels. The weekend-long event landed on Burgermeister's birthday.
"It was my passion [that got me to travel the country]," Burgermeister said. "It's an outlet. My mind is absent when I'm doing it. Just the feeling of going, it's like I'm on a cloud."
Burgermeister's passion for longboarding began when she started college at the University of Wisconsin-Whitewater. She saw people using longboards to get around campus and decided she wanted to try it out. After learning how to longboard, she says she wanted to go faster and that led her to start downhill boarding. From there, Burgermeister met other longboarders and started networking with people from around the country. The community she met through longboarding got her hooked on the extreme sport.
"The skate community, they're so accepting," Burgermeister said. "They're all about building a good-hearted community. They want everyone to be involved with it and they just want it to grow and they want everyone to have fun."
Burgermeister is sponsored by She Shreds, a female extreme sports organization that supports female athletes and makes gear and clothing, and Team Nobull, a team of longboarders that reach out to spread the word about the sport. Burgermeister says those sponsors have helped her reach out to the longboard community as well as appreciate the importance of safety and maintaining a good reputation for the sport.
While she is relatively new to longboarding, Burgermeister's other passion, playing the violin, has been in her life since she was four years old. At UW-W, she is the concertmaster for the orchestra and plays in multiple ensembles.
As she got more involved in longboarding, balancing a life of rehearsals and concerts began clashing with her life of adrenaline and road rash. As longboarding gained prominence in her life, she was advised by one of her music professors to quit longboarding in order to stay healthy and able to perform.
"That was a huge obstacle for me because I stopped cold turkey," Burgermeister said. "It really killed me inside. I got a little depressed, I got moody. I didn't have that outlet anymore which was so horrible."
After an emotionally exhausting hiatus from the sport, Burgermeister broke and decided to longboard again to help deal with overwhelming emotions. She called her friend, sophomore information technology major and longboarder Bryce Anderson, and hopped back on the board.
"That was the most euphoric feeling ever was when I first was going down the sidewalk again," Burgermeister said. "I was flailing my arms and was like 'I'm free.' I couldn't explain that feeling of bliss. It's my bliss."
Anderson met Burgermeister the first time he saw her longboarding. He had an interest in skating and decided to introduce himself to her. They have been friends and fellow longboarders since.
"I love the fact that she prioritizes herself and loves herself," Anderson said. "She doesn't let her goals run wild, and when she sees that she's too ambitious, she doesn't let that backfire."
Burgermeister and Anderson agree that being safe is the biggest priority. Longboarders want to eliminate the negative stereotypes around longboarding by telling everyone to always wear helmets and pads while skating, and always be friendly while boarding.
"I think when someone who is not into the sport sees us, they're like, 'oh they're just skateboarders they're probably not socially acceptable,' they just judge us right away, but it's not like that at all," Anderson said.
Getting women involved in extreme sports like longboarding is one of Burgermeister's goals. Groups like Girls Gone Fast and She Shreds have helped her reach out to more women.
"It's not necessarily trying to show off girls that can skate, it's trying to get them to show other girls who are interested 'hey, you can take these starting steps and you can get into it,'" Burgermeister said. "It's getting the hype and helping other girls to follow their passion."
When she gets time away from her board or her violin, Burgermeister also enjoys performing hula-hoop tricks, especially at raves. While she enjoys classical music and playing the violin, she also enjoys "raging" to techno or EDM music.
"I guess what violin, longboarding and hula-hooping all do is they take away my thinking," Burgermeister said. "I have to be focused on them. I have to either be focused on balancing or what my hands are doing while I'm playing my violin, it makes my mind absent, and it helps me stop thinking. I overthink everything."
After a recent chipped tooth and life of consistent road rash, Burgermeister does not see herself leaving the sport any time soon, even as she continues with the violin.
"They're total opposites, they're like yin and yang, but I have to balance them," she said. "They counteract each other."