PL&H: Quick and easy garlic bread
By Alexandria Goodwin-Salas
Nov. 18, 2015
Hello all! This week I'm giving you another quick and simple recipe. I tried it this past weekend and I think you might like it, especially if you enjoy carbs!
Things you'll need:
Sliced French bread
Melted butter
Garlic paste
Dried basil
Dried parsley
*Helpful hint: fresh would definitely be better, but dried is cheaper and we are in college*
What you do:
Preheat the oven to 350 degrees
Whisk the butter, garlic, basil and parsley together in a bowl
Use a pastry brush to brush the mixture onto the sliced bread.
Place the bread onto a baking sheet and cook for 15-20 minutes or until the bread is golden brown on the bottom
*Helpful hint: place piece of parchment paper on baking sheet for an easy clean up*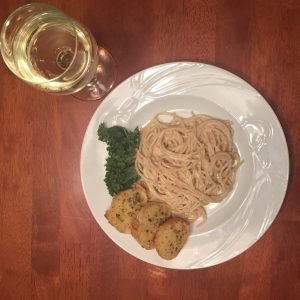 There you have it ladies and gentlemen. Now you can pair the bread with some of your favorite pasta, as seen in the picture. Or you can surprise the family with a new alternative to rolls for Thanksgiving dinner.