Alloy aligns students for jewelry making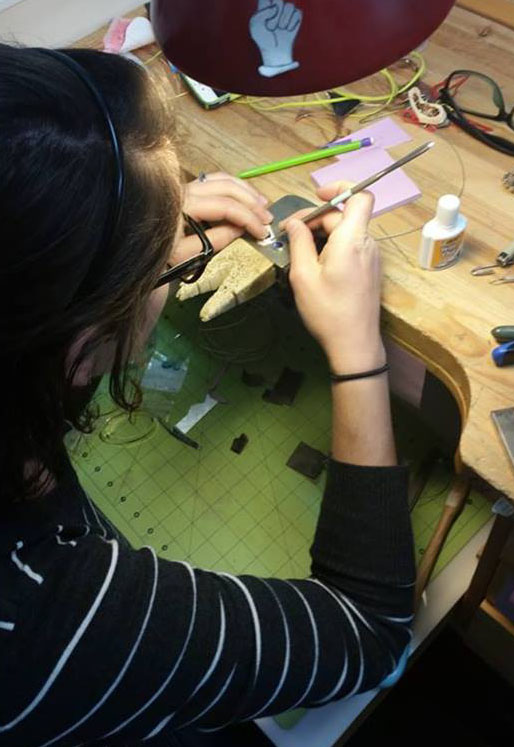 By Shakeva Oliver
Dec. 9, 2015
Necklaces, bracelets and rings all take mere moments to put on, but there isn't always much thought put into how long it takes to create a piece, especially one made by hand.
The Alloy art group of campus can be found working on their jewelry pieces from 9 a.m. to 9 p.m. any given weekday for their jewelry fundraiser sale.
Alloy is a campus organization of art students who specialize in metals mixing as their medium. The group currently has about eight members and is completely student run.
The jewelry sales are their biggest fundraiser has. Each piece of jewelry is handmade by a member of Alloy.
President Ger Xion said he appreciates how diverse Alloy is.
"My favorite part is interacting with all the different students because we all have so many different ideas," he said. "It's a fun place to hang around while still working on your work and achieving the same goals."
Xiong's current focus is traditional Hmong jewelry and chain making, so he has been creating necklaces.
The artists use a variety of metals to create their art pieces and jewelry, such as fine silver, copper, red brass and even gold. The students have to buy their own metals to work with, so gold isn't used very often for their work.
Alloy attends several conferences during the semester throughout the country in order to help bring money to the group so they can fund visiting artists that come through each semester. The visiting artists provide workshops so students can learn different techniques in creating their art. They also do a lot of fundraising, like T-shirt and jewelry sales, so they are able to go to the conferences.
The studio is closed on weekends due to the fact that it is one of the most dangerous rooms on campus. A lot of items in there that can blow up. Metals Professor/Alloy Advisor Teresa Faris said she prefers students do not work late for too long of a time period. Sleepiness is a liability in studios and workshops. The studio they work in is in the Center of the Arts (CA) room 2054.
Vice President Marissa Guthrie said the studio is a productive workshop for many reasons.
"We are very lucky to have a space where we are able to be vulnerable with our work, what we are working on, share our processes and findings, and give honest feedback with each other on a daily basis," she said. "The studio community offers a lot for growth, personal, technical and conceptual."
Guthrie has a different intention with her work than Xiong.
"[My focus] is to create awareness and bring light to issues that many are afraid to talk about, such as mental illness and abuse," Guthrie said.
At the jewelry sales in the CA,  each piece of jewelry goes for at least $20. The price depends on how much time the artist spent on the pieces of jewelry, as well as what metals were used. For instance, gold jewelry is more expensive than fine silver.
Alloy's work can also be seen at the Crossman Gallery. The gallery has several shows each semester that feature Alloy's work and other BFA major's work. The shows can last for up to two weeks and are spread throughout the entire gallery.
Xiong said he wished more art groups, Alloy in particular, received more attention on campus and encourages students to attend the jewelry sales.
"Nobody knows about us so it's kind of hard to go to things on campus that is so heavily focused on business and stuff," Xiong said.
For more information contact President Ger Xiong at [email protected], or follow Alloy on Facebook and Instagram.
Visit the sale this week in the Greenhill Center of the Arts Atrium from 8 a.m.-2:30 p.m. on Dec. 9.