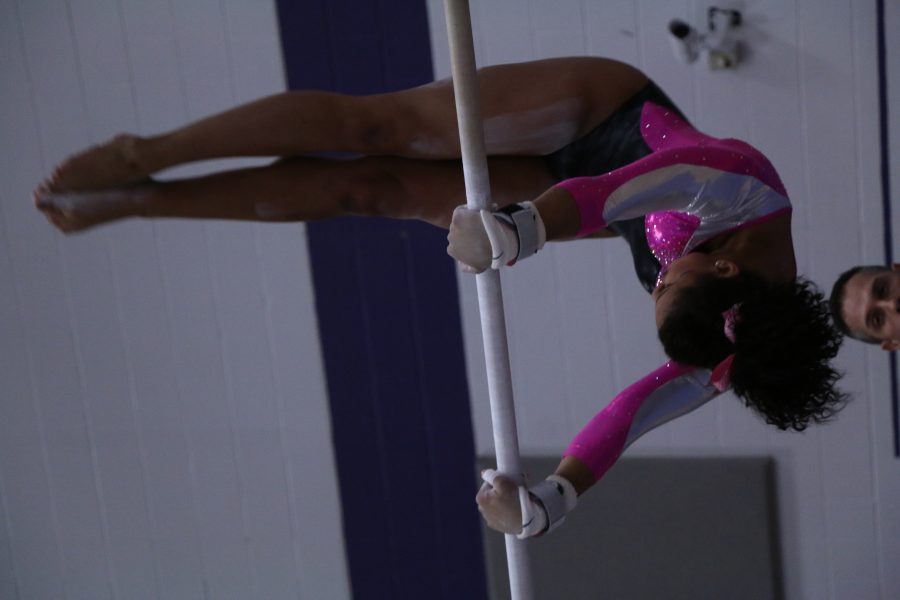 By Evan Carlin
Feb. 10, 2016
The UW-Whitewater's gymnastics team came out on top Feb. 6 with a 189.100-178.750 win over Gustavus Adolphus College.
This event saw all participants sporting pink to support breast cancer awareness and research.  All proceeds from T-shirt sales and the "Pass the Bucket" initiative for scores of 9.500 or higher benefited Unite For Her, a non-profit organization dedicated to supporting gymnasts and their families who experience the financial woes of fighting breast cancer.
Junior Courtney Pickett kick-started the Warhawks by winning two events and garnered top all-around honors with a 38.100, tying her season high and the No.19 rank in school history.
The 'Hawks claimed the top six spots on the uneven bars, finishing as the team's highest of the season and No. 3 ranked score of all time, with a score of 48.100.  Junior Mackenzie Smith and junior Katie Fiorilli captured history, entering the program's top-25 record book with scores of 9.725. Fiorilli's efforts led the Warhawks on the vault in her season best performance with a score of 9.600.
Head coach Jennifer Regan said she was pleased with her team's performance on the uneven bars.
"On the uneven bars, they did a fantastic job," Regan said.  "We had a season high this weekend as they have been working really hard in the gym, which led to performing outstanding."
Senior Amanda Quinn also said she was impressed.
"I am pleased with how much we have improved on bar rotation," Quinn said. "We struggled last week, but we are were able to turn it around, and that was great to see."
Pickett picked up the slack on the beam for the Warhawks, matching Fiorilli's score of 9.600. Senior Kristin Shackleton and Franchesca Hutton gathered third and fourth place honors.  Shackelton took third with a 9.475, while Hutton placed fourth with a 9.275.
UW-W closed out the competition in the floor exercise with a score of 47.375 for their second-best rotation of the day.
Regan emphasized how proud her team's effort has made her.
"We have continued to improve even with our difficult season," Regan said.  "I am really proud of that.  There is not one person that has not improved this season; it's about a team effort for us."
Quinn said she wants herself and her teammates to keep improving.
"For the team moving forward we want to get more consistent.  We don't want to count a fall in competition and have more hits in our lineup.  As for myself, I want to keep hitting my handstands.  I want to clean up my routine for conference and nationals," Quinn said.
The 'Hawks want to be consistent as they progress this season. 
"We want to keep building on our consistency and confidence," Regan said. "Consistency on the beams is big, as we are already a great beam team."
UW-W will resume their quest to improve upon their season in WIAC competition on Feb. 13 at UW-Oshkosh.