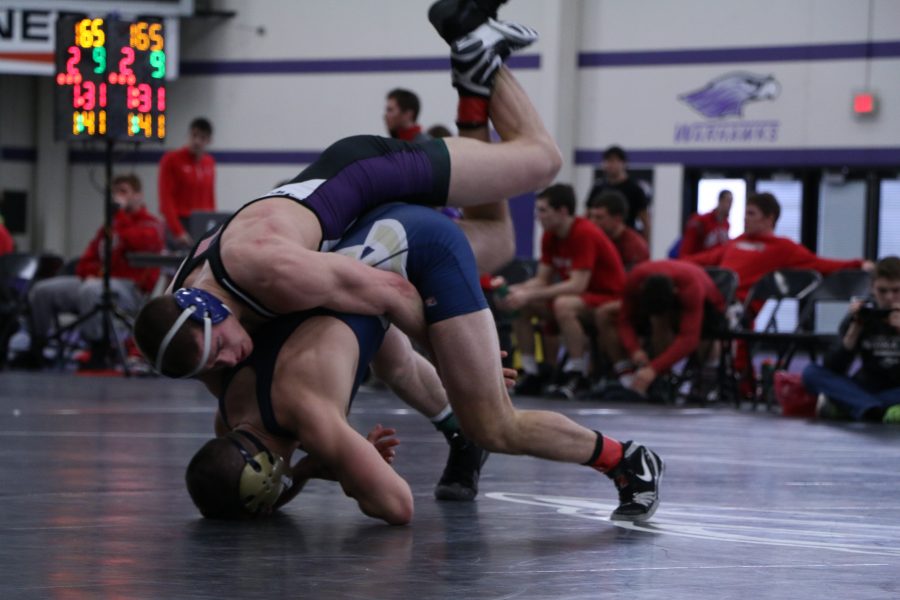 By Adam Reed
Feb. 17, 2016
The 13th-ranked UW-Whitewater wrestling team won its fifth consecutive conference championship in Stevens Point on Sunday. The Warhawks held off the fifth-ranked UW-LaCrosse team by an overall score of 161.5 to 156.
Not only is this the fifth-straight conference championship for the Warhawks, but it is also the second championship for head coach Ned Shuck in as many years at the helm. Following the tournament, Shuck was named the conference coach of the year for his efforts.
"I attribute [the continued success of the program] to the guys on the team," Shuck said. "I've been blessed with my coaching staff. They have thrown everything that they can into these guys to prepare them and get them ready…I think that's why we have been able to have the success we have."
Five different Warhawks won their respective weight classes, with seniors Matt Adcock and Tom Gerszewski leading the way. Sophomore Isaiah Vela, freshmen Brandon Arteaga and Nicholas Bonomo also took home titles.
Adcock started out with back-to-back pins in the first two rounds, and then held on for a victory by decision in double overtime of the semifinal round. Adcock won the final over Cody See of UW-La Crosse by a decision of 6-3 to secure the championship at 141 pounds.
"A win is a win at the end of the day," Adcock said. "It doesn't matter how you get it. I definitely have some film to look over and some areas to improve in to get ready for regionals and qualify for nationals."
In addition to the first-place finishes, there were also several second place finishes. Senior Kory Jauch defeated three opponents in a row at 157 pounds, before losing by decision to Arteaga at by a score of 6-3.
Juniors Zac Denny and Joseph Brodman finished in second place at 125 pounds and 133 pounds, respectively. Denny defeated the No. 1 ranked NCAA Division III wrestler, Ryan Weinmann of UW-La Crosse, by decision in the semifinal round.
"Zac Denny had a real big win over Ryan Weinmann," Shuck said. "We turned some matches around and those were really big matches for us to stay on top and keep our lead."
Some of those big matches, according to Shuck, were those of George Gonzalez, who moved up two weight classes to wrestle at 197 pounds. Gonzalez had five pins in the tournament, and came away with a third-place finish.
Freshmen Nate Mlodzik and Isaiah Doane and sophomore Connor Price also placed third in the event. Sophomores Nick Koch and Maxx Hubbard, freshman Christian Dischler and junior Ronny Hauser rounded out the contributions for the Warhawks with fifth place finishes.
"It's just a good feeling," Shuck said. "Every single round today was a battle, and we knew it was going to be [a battle] going into the tournament. It feels great to come out on top."
The Warhawks were only ranked 13th in the national poll going into the tournament, and according to Adcock, he and his teammates gain extra motivation from feeling like the underdogs.
"It's a pretty young team and the whole nation really hasn't given us the credit we think we deserve," Adcock said. "The odds were stacked against us. We've shocked the nation one week after the other, trying to earn our spot once nationals comes."
Adcock and his teammates won't have to wait long for another opportunity to prove themselves, with the regional championships coming up on Feb. 27 in Crawfordsville, Indiana.