CSU provost tapped for UW-W post
By Kimberly Wethal
Feb. 24, 2016
Chancellor Beverly Kopper announced UW-Whitewater's selection for the position of provost and vice chancellor of academic affairs last week Tuesday.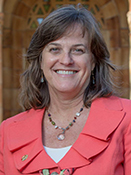 UW-W selected Susan Elrod out of the four remaining candidates following campus forums held for each finalist during the first two weeks of February. She will take over the position in less than two months, starting April 15.
"I'm just really excited to come join the Warhawk family," Elrod said.
Elrod holds a Ph.D in genetics and arrived at Chico State in October 2014, after being the dean of the College of Science and Mathematics at the California State University-Fresno campus.
Kopper believes Elrod will be a "great asset" to the campus community, she said in a news release.
"In my discussions with Susan, she immediately recognized that UW-Whitewater is a university that is doing amazing work with dedicated faculty, staff and students," Kopper said. "She is a true believer in the transformational power of comprehensive universities and brings enthusiasm and passion for our unique mission."
UW-W's current interim provost, John Stone, was one of the final four candidates but was passed over for the position. Kopper recognized Stone's leadership during the transition from when she left the position to take over the role of chancellor from Richard Telfer.
"I also want to express my deep appreciation to John Stone for the work he has done," Kopper said in the news release. "John will continue to be a key leader on this campus and I greatly appreciate his commitment to UW-Whitewater."
Elrod has been aware of UW-W for years, she said, because of her national work with the Association of American Colleges & Universities (AAC&U). She not only got to know the UW System as a whole during the three years she worked there, but UW-W in particular.
"I visited the campus several years ago [for a symposium] and was very impressed with the focus on students and learning, and the primarily undergraduate experience," Elrod said. "I remember thinking, 'wow, these faculty are really dedicated to their students.' That's important to me because everywhere I've been, that's been my focus as well."
She'll have to spend time on campus more to determine any changes she'd like to make, she said, but Elrod is looking to enhance the use and accessibility of High Impact Practices like learning communities and undergraduate research. She's also looking to close the achievement gap in graduation rates between well-represented and underrepresented students and helping the campus become more diverse in its student and faculty population.
Coming from a background in STEM (Science, Technology, Engineering and Math) education, Elrod would also like to talk with those already on campus to see how it could fit into the current curriculum and Kopper's strategic plan for the university.
"Those are just a few of the issues," Elrod said. "I think overall, for me, I'm hoping that I can come to the university and help the university take its very solid foundation and the great work that already happens between students and faculty … to the next level so that Whitewater can become an even more prominent national leader."