Employed students hit by decrease in hours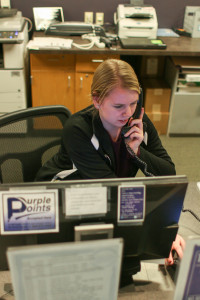 By Kimberly Wethal
March 2, 2016
Student employees are feeling the effects of new Affordable Care Act (ACA) regulations and payroll policies.
Student workers were previously been capped at 30 hours because of the lower FICA tax rate they pay out of their paychecks. As of Jan. 1, the HR department has reduced the number of hours students employees can work in a week to 25, thanks to ACA's change in its employer insurance requirements, UW-Whitewater Human Resources and Diversity Director Judi Trampf said.
A five-minute conversation with a resident assistant (RA) might mean the world to a student living in university housing, junior and Fricker RA Maurice Nicholson said. Under the new timekeeping practices spurred by the ACA regulations, however, it would be as nominal as sending an email or saying hello in the hallway.
"Does that make it not worth it or meaningless?" Nicholson said. "That's the thing, when does my job become not only something that you track, but something more than what you track?"
Any student employee working more than an average of 30 hours a week would be required to receive health insurance through the university as their employer.But the university doesn't have a way to give out health insurance to student employees.
UW-W has student workers who clock in 40 hours during the summer and winter breaks or go through extensive trainings. In order to even it out and make sure employees aren't working more than an average of 30 hours per week, the number of hours has to drop during the
semester.
The solution umbrellas all student employees, whether they work during the breaks or not.
If UW-W student employees don't comply, the federal government could bill the UW System $76 million, charging per employee, Trampf said.
"It's why we're being so careful with this," Trampf said.
All student workers paid by the hour previously had to keep an eye on their hours, but the regulation has created a new obstacle for students paid with a semesterly stipend.
Through the ACA's new regulations, stipend and lump-sum payments are considered student employment, Trampf said, meaning employees need to count hours or estimate as best they can.
Students employed in roles such as as resident assistants, peer mentors and undergraduate researchers are all paid in the form of a semesterly stipend, spread out over 16 weeks, Trampf said.
"That's what bothers me the most," Trampf said. "There's no question [these jobs] are education-based, but under the Affordable Care Act, we should be counting those as hours, or we have to make it financial aid. Those are our options."
The HR department is being faced with two choices – either make the stipend pay into scholarships or financial aid, both of which impact the amount of aid students can receive.
With the HR department still unsure of which solution will work best for students, it's created a level of uncertainty for those working stipend positions and their coordinators.
Peer Mentor Coordinator Marie Hornickel said she's not sure how compensation will work, since the spring semester has less than a dozen peer mentors, versus more than 100 employees in the fall.
Because the role of a peer mentor is so important for freshman-to-sophomore retention, Hornickel said, the program won't change its structure in response to the ACA requirements.
"Similar to the RA position, it's hard to quantify the time working with students," Hornickel said. "That's presented some challenges with the ACA … I don't fully know how we're moving forward in the fall yet."
Any student in fear of not being able to pay rent or buy food because of the hour restrictions should talk to Trampf, she said, because there are a few "safe havens" she can use to get around the requirement.
"I don't want anybody out there to think they can't work more hours," Trampf said. "We'll find a solution for everybody."
A new challenge
The stipend RAs receive isn't enough to live on for two weeks, Nicholson said.
He took on a second job working the desk in Lee Hall, which made him a little bit of extra cash with the few hours he worked.
Now as he works clerical, it's a bigger concern.
"With that change, I was really uncertain," Nicholson said. "Was I ever going to be able to pay my bills? Am I going to be able to have insurance and take care of myself? It was kind of nerve-wracking."
RAs are exempt from the 25-hour rule this semester as they're figuring out their way through the new requirements, junior and Arey RA Alissa Roggenbauer said. They're normally set to have a 20-hour work week, allowing them to work 10 hours somewhere else on campus.
Their hours outside of being an RA would be cut in half with the new policies, based on the idea they're meeting 20 hours
exactly every week.
That's not exactly sustainable for Roggenbauer.
"I know for the last four weeks that I've been tracking [my hours], it's ranged from 18 to 35 hours," Roggenbauer said. "It depends on the week."
Every day's a new challenge, as Nicholson has turned his clerical job into a balancing act. If he works 10 minutes over his two-hour shift one day, he works 10 less the next.
Tracking the hours he works is just an added pressure to the life of being an RA, being a college student away from home and working a job that could require his attention at any minute of the day.
"Who wakes up every day and says, 'I'm going to get 15 minutes with my resident, or I'll go get 30 minutes of interaction logs?" he said. "No one does it that way."
Options to weigh
A solution would be to exempt students working for the university from the ACA requirements all together, because of their status as students.
"Students who are students first would not fall under the Affordable Care Act, because it's almost a contradiction to me," Trampf said. "On one hand, the government knows you're students, so they know you're not going to make enough money to pay the taxes. On the other hand, they're saying you should have health insurance through your employer.
"If we're their employer over here and they don't pay these taxes, why would we have to have them on our insurance rolls over there? It doesn't make a lot of sense for students."