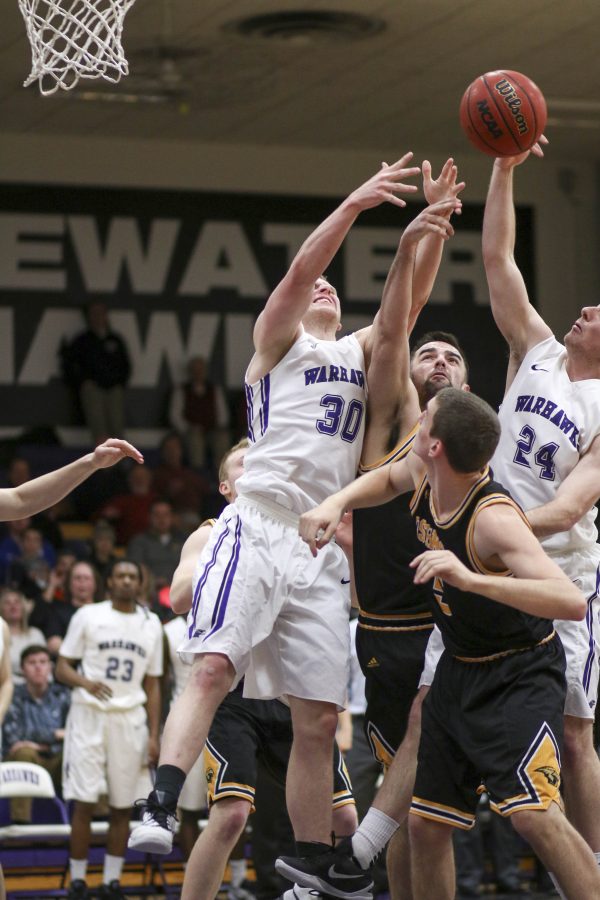 The Warhawks men's basketball team had many question marks heading into the season after losing nine players and all five starters from last year's WIAC championship-winning team.
Many questions were answered, but they were not answered early enough as the Warhawks failed to make the postseason for the first time in four seasons. The team finished the year with a 16-10 record and bowed out in the first round of the NCAA tournament with an 80-66 loss to UW-River Falls on February 24 on the road.
The young 'Hawks gave a valiant effort to make it further into the postseason but were still able to gain valuable experience for next year.
After a 7-7 WIAC conference record, UW-Whitewater finished fifth in conference, which was the worst mark since head coach Pat Miller took over in 2001-02.
Despite the .500 conference record, the 'Hawks continuously rallied and stayed in many close games. If there were such a thing as a Division-III National Invitational Tournament (NIT), I believe they could have been in the championship hunt.
The 'Hawks were led by senior forward Trinson White and senior guard Haki Stampley.
White, who transferred from UW-Milwaukee, led the team with 17.9 points per game, 2.9 assists per game, and nine rebounds per game. White was able to tally 10 doubles-doubles and will really be missed as the 'Hawks No. 1 option on offense next year. When starting freshman guard Andre Brown suffered an ankle injury late in the season and missed two games, White shifted over to point guard, led the team to two-wins and was named WIAC Player of the Week for his efforts.
The way White dominated the glass and led the team in scoring bring to mind KJ Evans, who was an NCAA Division-III Tournament Most Outstanding Player when the 'Hawks won the National Championship in 2013-14. If the 'Hawks would have gotten as far as the Final Four though, White could have easily won that award.
Stampley scored most of his buckets from long-range and was the second-leading scorer on the team, averaging 15.7 points per game.
When a team loses nine players and all five starters to graduation, there will be many young players that get valuable experience for the following year when the Warhawks could be well-positioned to make a big leap up the rankings.
In talking with Miller many times throughout the year, he always praised how hard his players worked and really attempted to learn from their mistakes and become better.
This positive work ethic was reflected on the court as you could see freshman forward Maurquis Turner and freshman point guard Andre Brown work their way into the starting lineup and earn extremely valuable experience. The 'Hawks future will be very bright for this underclassmen-dominated team.
Before accepting any transfer students, which the program has a reputation for doing the past few years, the 'Hawks will roll into the season with three seniors.
Forward Alex Legault did not see much playing time this year, while valuable reserve guard Drew Bryson played in all 26 games and tallied 6.1 points per game while averaging minutes per contest.
Starting forward Cole Van Schyndel will also be a senior next season. Van Schyndel was a workhorse down low, averaging 12.1 points and 5.4 rebounds per game, while starting 20 of the 25 games he played in.
Although this team will lose a few great senior students, this is a team that will be a force to be reckoned with next year. You can bet the rest of the WIAC has taken notice.