May 4, 2016
It's hard to believe this semester is coming to a close. Being the lifestyle editor has made the time fly. For me, the position made the last few months go by so fast because taking on the work was busy, challenging and fun.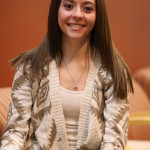 I went into the position having little experience in print journalism. The classes I took my first two years at UW-Whitewater were primarily broadcast based. While I love everything about broadcast journalism, I wanted to take the opportunity to pursue my passion for writing and learn a new aspect of the field.
The first few weeks at the Royal Purple were an adjustment because InDesign looked like a foreign language to me. As time went on, I learned more each week and certain tools began to stick in my memory.
Production nights started as a difficult puzzle, but now I look at it as a fun project. I owe my progress to the great staff I was able to work with. The other editors were more than helpful with guiding me through the process, and I am thankful to have had approachable and supportive people working with me. Even though some of my questions were probably stupid, they never made me feel that way.
I owe a lot to the staff writers who helped make the lifestyle section possible each week. Their dedication to the Royal Purple made my job easier when it came to finding stories and putting together the finished product.
One aspect of being an editor I loved the most was being able to interview a wide range of people. I have learned so much about topics I had no knowledge of before. From the game of bridge, to dating websites as financial aid options, I have enjoyed expanding my knowledge while meeting many interesting people. This job has definitely been reassurance that I chose the right career path.
Being an editor also opened the door to new opportunities.  Because of my experience at the Royal Purple, I was offered a position as a marketing and communication summer intern at Bethesda Lutheran Communities, a non-profit human service organization serving people with intellectual and developmental disabilities through faith-based programs.
I am so excited to use my writing skills to help others, and to apply all I have learned in the future. I am grateful for the opportunity to be the Lifestyle editor at the Royal Purple, and I encourage all journalism students to try things outside of their comfort zones; it will only help you down the road.