Video game review – Forza Horizon 3
Hang on for a minute...we're trying to find some more stories you might like.
Forza Horizon 3 is a must-own for fans of either the Forza Motorsport series or Need For Speed series. Forza Horizon 3 is a perfect blend of racing simulation and ridiculous stunts.
There are multiple categories of objectives to compete, whether it's racing or stunt-related. There are dozens of 'Danger Zones,' or stunt jumps, scattered across the sprawling map. Each 'Danger Zone' has its own challenge for how far players must jump before landing in order to score awards and in-game currency.
In-game currency credits can be used to purchase new cars, upgrade cars in your garage, fast-travel across the map or swap cars while driving out in the middle-of-nowhere without access to your garage full of cars.
There are cars to own from every major and many minor manufacturing companies. Players can own a Ferrari, Lamborghini, Porsche, Lotus, Aston Martin, Konneesigg, Corvette, off-road dune buggies, and much more.
Players can complete objectives to earn credits. These objectives include stunt jumps, circuit races, point-to-point races and 'speed traps.' Speed Traps are spots located throughout the huge map where your driving speed is measured, and depending on how fast you're driving, you can earn credits or points towards leveling up.
The level system is in place to show each player's progress and to measure how often a player can expand their 'Festival Sites.' Festival Sites are locations where players must earn points to unlock, and each site has a garage with the player's vehicles stored. The garage is where you can upgrade and tune up your cars.
Even just driving around in your favorite cars, and enjoying the view of a simulated Australian countryside is pure joy. The graphics are phenomenal, and it's very hard to tear yourself away from the screen. The map has several different climate areas, with tons of places to explore. There's the large jungle in the west of the map, several beaches in the south, a large forest area in the center, a packed metropolis city in the east and a vast desert in the north. There are more than 400 roads to discover in this game, and in two weeks I've only found about half of them. Every time you boot up the game and cruise around aimlessly, you can discover someplace new.
The circuit races are pretty standard amongst racing game norms. Complete each lap while hitting checkpoints along the way, ideally finishing in first place, or in the top three. The point-to-point races are similar, except you're racing to a specific point on the map, without ever driving over the same route twice. There's also drag races, where players must have the car with quicker acceleration and a high top speed to win.
The upgrading system allows players to pick and choose every single car upgrade, ranging from total engine swaps to replacing the stock engine parts with racing-spec parts. You can also change some exterior features of the car, such as adding spoilers or hood scoops. The game gives you a price estimate on upgrades as well, so in case the price is too high for a player's budget, they can pick and choose which exact upgrades to install before actually handing over the cash and receiving the upgrades.
Otherwise, players can select a pre-determined tune-up or upgraded designed by other players. These customized designs often have specific purposes, whether it's for drag-racing or off-roading.
The level of difficulty is determined entirely by the player. You can choose which assists you want to use, such as whether to drive in manual or automatic shifting. The less assist you use, the more credits you earn per race. Players can select the difficulty of AI racers to create more or less of a challenge for themselves. AI racers are based on other online racers' skills and recorded data. These ghost drivers, called "Drivatars," race exactly the way real players do, which provides a fresh and challenging experience every race.
The online gameplay is amazing because you can complete racing objectives with a friend, furthering both players' career progress at once. Besides, it's nice to appreciate the details and discover new locations with a buddy.
I rate this game at five out of five stars. It's gorgeous, there are many mechanics in place to keep the game challenging, there's seemingly endless objectives and places to discover, and come on, who doesn't enjoy sitting down in a simulation to race across the countryside in a supercar?
About the Writer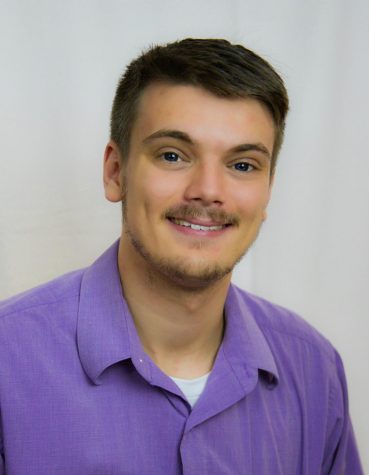 Brad Allen, Assistant Copy Editor