'They deserve more than 50 percent off'
Local businesses offer deals, thanks to veterans
Hang on for a minute...we're trying to find some more stories you might like.
A simple 'thank you' is all it may take to let a veteran know that you appreciate the sacrifices they have made for our country. It could mean the world to someone who feels unappreciated after going through hell and back.
Many businesses in the Whitewater community try to offer something a little extra to show their support of our armed forces servicemen and veterans, who have made sacrifices in protecting and serving America.
Some restaurants offer discounts on meals, home appliance store workers might take extra time to get to know the customer, retail owners may offer clothes to someone in dire need and some businesses may raise money toward programs meant to assist veterans and active duty soldiers.
Second Salem Brewing Company, 111 W. Whitewater st., will offer a free pint of beer to Veterans and active duty servicemen on Veteran's Day.
"We get people in here from the National Guard all the time at lunch," Second Salem owner Chris Christian said. "Usually we'll give them 50 percent off their meal."
At some businesses, active duty servicemen are asked to show their military ID card in order to receive a discount.
Christian said he has a friend serving in the U.S. Army in Afghanistan.
"My friend told me soldiers are never supposed to show their military ID," Christian said. "I did not know that, and I thought it was pretty interesting."
Christian said that American citizens owe everything to the people who have made sacrifices while serving in the armed forces, and that those men and women have set the path before us to enjoy our freedom at home.
"I'm a firm believer that we need to support our Veterans," Christian said. "Many of them were not drafted—they chose to serve. They deserve more than 50 percent off their meal."
Rick's Eastside Pub, 561 E. Milwaukee St., will offer 25 percent off fish fry on Veteran's Day.
Four generations of servicemen
United States Marine Corps Veteran and local area business owner Bill Osborne said Home Depot is one business that treats veterans very well.
"Although, there's more senior discounts out there than veteran's discounts," Osborne said.
"There's certainly a lot more recognition of veterans to now than there was after the Vietnam War," Osborne said. "We take a lot of pride in our commitment to this country."
Osborne is a third-generation soldier in a four-generation line of servicemen. His grandfather was a First Lieutenant in the Army during World War I, his father was a Junior Grade Lieutenant in the Navy during World War Two, Osborne served as a Captain in the Marines from 1973 to 1988, and his son currently serves as a Lieutenant Colonel for the Marines.
Osborne was commissioned as an officer through UW-Whitewater after the Vietnam War. He was stationed on the East Coast of the United States from 1973 to 1976, then took part in several overseas operations.
These operations include "Operation Northern Wedding" in Germany, the largest U.S. operation in Germany since World War II. Another was "Operation Agile Jouster" in Puerto Rico, an artillery fire exercise.
"It took me two or three months to assimilate back into civilian life," Osborne said. "I enjoyed my time in the Marine Corps. It was a good challenge."
Osborne said that in the southern United States, it's more common for people to come up to veterans and active duty members to say 'thank you,' than in the northern states. He added that "Northern big cities are not as welcoming."
"I didn't really feel appreciated for my service until 2008," Osborne said. "There was a ceremony in Milwaukee called 'Honoring Our Heritage' where a lot of men talked about the Vietnam era, and we received a heartfelt appreciation."
A warm welcome
UW-Whitewater Veterans' Services Coordinator Richard Harris served for six years in the U.S. Army in Germany, Turkey, South Korea and the Persian Gulf. He is a veteran of the Gulf War.
Harris said one business that has stood out the most to him is Jersey Mike's Subs, which held a benefit once to raise money for veterans' services and veterans' health programs.
"We came home to a lot of flags waving," Harris said. "We were received very well. Most of the nation has learned more about what soldiers have done overseas and honor that sacrifice. I've always felt acknowledgment and respect in the community in Whitewater."
Harris' sister has also served in the U.S. Army for many years, and is currently still serving. She plans to retire as a servicewoman.
"Many people know someone who has served in some capacity," Harris said. "And there's always the possibility for families to receive the news that someone in a uniform won't be coming home that day. We're always mindful of that."
Harris said the "Vietnam Experience" is what shaped the U.S. military today. He describes many contemporary wars as being political, with the exception of the Gulf War.
"We were overseas to do our job: In the military, your job is to destroy the enemy," Harris said. "That's not political, that's just the reality of it. We serve so that people can have the right to exist and be able to disagree in society. We just want to do our job."
Harris graduated from UW-Whitewater with a criminal justice degree in 2014, and was then hired as a Veterans' Services Coordinator.
Harris worked extensively in community service in between his military service and going to college.
"It's a huge transition to go from the military world to the civilian world," Harris said. "Each veteran has a unique experience and has paid a heavy price and made a sacrifice for this nation."
Harris' office connects student veterans to various on-campus programs, such as the Health Center, Counseling Services, the Madison Veterans' Center run by combat veterans, VA hospitals in Madison and Milwaukee and also the Milwaukee area's Veterans of Foreign Wars organization, which offers disability claims.
There are 418 veterans, National Guard servicemen and Army Reserves members at UW-Whitewater, Harris said.
"Some universities don't have the services that we do," Harris said. "The vets lounge is a really good support service. It allows students veterans to connect and talk about their experiences in a safe space."
Harris said "it can be overwhelming" to receive support from the community. He was once invited to be honored before a crowd at a Milwaukee Brewers game. He added, "It was a very warm response. My nine and twelve year old children have an idea of what it means to serve and to be honored."
About the Writer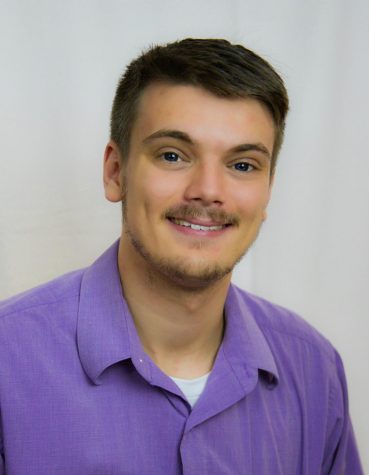 Brad Allen, Assistant Copy Editor