Innovators incite change
Inventors, startup CEOs share their inspirations
Hang on for a minute...we're trying to find some more stories you might like.
It all starts with an idea. An idea can grow into a business through passion, immeasurable effort and dedication.
An array of innovators—a mix of UW-Whitewater students and Whitewater community members—gathered inside the UW-Whitewater Technology Park, 1221 Innovation Dr., on Nov. 30 to "share the secret sauce" on their companies and organizations.
"[The Innovator's Showcase] is one of my favorite events," Chancellor Beverly Kopper said. "There's this energy that exists, and it's a credit to every person involved. There's this synergy that happens among everyone, and it's amazing. We're talking about folks, who working together in all kinds of partnerships, can change the world."
Here are some of the ideas shared at the event last week:

Embracing entrepreneurial spirit
Luke Olson, president of the UW-Whitewater chapter of the Collegiate Entrepreneurs Organization (CEO), said the student organization allows its members to pursue their business dreams.
"We embrace the entrepreneurial spirit through our members," Olson said. "We give them business-model canvases and website development tools to map out their ideas."
CEO has an annual competition for student entrepreneurs.
The Warhawk Business Plan competition lets contestants submit their startup ideas to a team of judges for a chance to win $1,000. A free semester worth of tuition was awarded to one student, Olson said.
"CEO really embraces new ideas, so it's very invigorating for us to be able to put those ideas into a place that harnesses that vibrant energy," Olson said.

Style with an element of safety
Kristan Holtan founded LED EZ, is a brand of styled lights for sporting equipment that adds an element of safety as well. Holtan's target market includes snowboarders, long boarders, skateboarders and bikers.
Holtan won the 2016 Warhawk Elevator Pitch Competition and has completed several prototypes. Holtan said she hopes to complete a full commercial launch in April 2017.
Holtan is working on an app for users to use their cell phone to control the color and design of the lights on their equipment.

'We'll figure out the motor thing later'
Community member Dustin Herte, Founder of Odyssey Trikes, designed a street-legal electrical three-wheeled vehicle.
"It all started as a high school project," Herte said. "I cobbled this thing together out of parts I found lying around—didn't cost me a penny. I put a motor in it, but it didn't have much starting power. So I told my buddy, 'Hey, push me!' I'm thinking, 'We'll figure out the motor thing later.'"


"

"It all started as a high school project. I cobbled this thing together out of parts I found lying around—didn't cost me a penny. I put a motor in it, but it didn't have much starting power. So I told my buddy, 'Hey, push me!' I'm thinking, 'We'll figure out the motor thing later.'"

— Dustin Herte, Founder of Odyssey Trikes


Herte said a few moments later, he came flying around a tight corner. To this day, a large skid mark remains on the pavement where the frame of the trike broke.
He recently set the record among electric vehicles for distance traveled on a single charge: A total of 360 miles.
"This isn't a bicycle, this isn't a Tesla Roadster, but if you put them both on the track, this thing would outrace them in distance quite a bit," Herte said. "I drove this thing out of state this year."
The company is in communication with NASA in regards to hopefully using the technology of the trikes in satellites, Herte said.

Speeding up the hiring process
Founder and CEO of Rate the Student LLC Austin Beveridge said his website seeks to help employers to conduct faster background checks on interviewees during the hiring process.
"There's a huge amount of time invested between initial application receival and the final hiring date," Beveridge said. "Time is money. If we can reduce that time—even by a week—we can eliminate a huge amount of cost."
The website is a platform that connects students, references and potential employers to one another. The website's process allows each party to create an account to store and share real-time information, instead of conducting phone calls.

Increasing businesses' awareness
Advantage Media founder Mike Foerster said he created a website designed to increase social media awareness for companies.
The inspiration to create the website was based on a need to increase his own business' awareness, Foerster said.
Foerster is an affiliate of the Innovation Center. He was connected to a student intern, junior Emily McGuire through an Innovation Center partnership program which involves students with local start-up companies.
"One of the greatest challenges has been getting people to follow on multiple platforms," McGuire said. "Facebook is a really big platform for multiple generations, so it's been a really big part of our process, driving traffic from social media to websites. Also challenging has been thinking outside the box on what's going to engage people."

Improving communities around the world
Enactus President Andre Agosto said Enactus is a combination of three words: Entrepreneurs. Action. Us.
"Our goal is to empower others to improve their lives in a social, economic, and environmental aspect," Agosto said. "Enactus is a collected group of students who take entrepreneurial action to improve the lives of others in not only their community, but around the world."
Projects Leader Adam Schubert said the UW-Whitewater chapter of Enactus is currently working on four main projects:
A downtown project to cultivate business expansion. Enactus has partnered with Studio 84 and Dale's Bootery for this project.
Scouting Forward, a program focused on demonstrating benefits of using Bio Stimulants in crop rotation. Enactus has partnered with a university in Morocco for this project, and two UW-W students will go to Morocco to further discuss the project.
The Honduras project to help set up a self-sustaining hydroponics farm in Linaca, Honduras to increase crop growth efficiency and benefit the impoverished community.
Combat Blindness, a project spearheaded by British doctor Andrew Bastawrus to treat of blindness in sub-Saharan Africa through using a new smartphone app which scans eyes for diseases. Enactus hosted Bastawrus as a speaker on campus earlier this year, and has held fundraisers.
About the Writer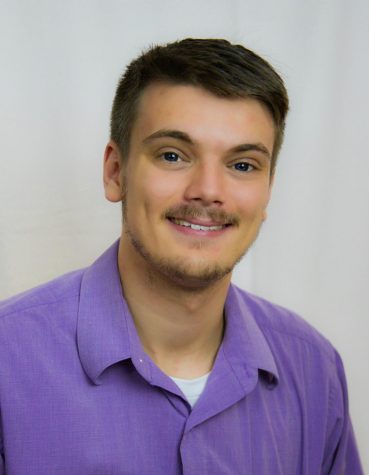 Brad Allen, Assistant Copy Editor