Morales' mission: Latino success
Grad helps Latino students find jobs
Hang on for a minute...we're trying to find some more stories you might like.
Lowering poverty levels among Latinos and increasing the number of Latino college students whom are hired before graduation are not simple tasks. But a UW-Whitewater student has made these two of his goals as part of his greater mission to help the Latino population succeed.
UW-Whitewater senior Benjamin Morales has created a startup company which aims to help Latino students build a portfolio for their job search, while also offering a mode for potential employers to gauge multiple students based on job skills and possible needs for fluent Spanish-English speaking employees.
Morales is a senior Spanish major and will graduate this semester.
"Employers right now do not have an effective method to seek out Latino talent that speaks fluent Spanish," Morales said.
Morales said he hopes LatinoPro will change that.
"We're providing the capabilities for employers to go in and search directly what candidate they're looking for based off skills," Morales said. "This would potentially allow companies looking for talent that speaks Spanish to have a portal to better effectively prospect that talent."
Harvard Business Review has conducted multiple studies on Latino job markets and determined that companies which hire Latinos into the workplace benefit by getting involved in bigger market opportunities as a result, Morales said.
"I realized someone, in some sort of platform, needs to provide for them and allow them to advance career wise," Morales said. "I figured with all the tools and opportunities at my disposal, I could really make a difference with the Latino demographic."
"
I realized someone, in some sort of platform, needs to provide for them and allow them to advance career wise. I figured with all the tools and opportunities at my disposal, I could really make a difference with the Latino demographic."
— Benjamin Morales, Founder of LatinoPro
Morales said this has been his driving motivator since day one.
"The Latino population is the backbone of America," Morales said. "They account for some of the hardest workers and do some of the toughest labor in this country."
The inspiration to create the program was nurtured by one of Morales' professors at UW-Whitewater.
"I had the idea in my mind for a long time, and one of my professors, David Gee, said he starts up companies and is a member of the Innovation Center," Morales said.
Gee is a lecturer of management at UW-W and Co-Director of Launch Pad, an affiliate program of the Innovation Center which offers assistance to student startup companies.
Morales pitched the idea to Gee, who then gave him 24 hours to go to the Innovation Center to pitch it to his business partner, William Dougan, as well.
"They really liked the idea and the mission I had, which is to help the Latino demographic," Morales said.
Gee said part of Morales' model is promoting underrepresented groups.
"He's built a full business plan, and he's done really well in order to help provide support for more students after graduation," Gee said.
According to a 2014 study conducted by the National Center for Educational Studies, 25 percent of all Latino high school graduates in 2014 enrolled into public or private universities in the U.S.
About 55.3 million people in the U.S. identify as Hispanic or Latino, comprising 17.3 percent of the total U.S. population, according to a study by Pew Research Center.
Approximately 21 percent of Latinos struggle with affording groceries, whereas only 13 percent of Americans overall have this same issue, according to Feeding America.
"There's tons of components that go into poverty, and there's no single way to address poverty; if there was, poverty would not be an issue," Morales said. "I believe that allowing people to join a platform that'll give them the tools and opportunities they need to better their lifestyle and take matters into their own hands, then it could potentially empower people to change the lives of others as well."
Morales grew up living in poverty in Mexico with his American mother and Mexican father.
"I lived in a poor area in the inner city of Cancun—not the tourist area," Morales said. "I walked to school alone every day at a very young age."
LatinoPro is open for anyone to join, regardless of ethnic background. Morales said he is currently focusing on the Latino niche—because that is his own ethnic background.
"However, if we see success on the Latino side of things, then I think this is something we could focus on other demographics and find the solution for them as well," Morales said.
Typically, entrepreneurs are perceived to be white males from middle-class families, Gee said. But the Launch Pad program through the Innovation Center has been trying to diversify its member group and has been talking to different groups.
"People are starting to say, 'I can do that too, there's nothing stopping me,'" Gee said.
Gee said very few universities offer the same quality entrepreneur program the Innovation Center offers. Gee completed his undergraduate at UW-W, and he said the Innovation Center "is one of the best accelerator programs in the county."
Career and Leadership Development (C&LD) will assist with the beta testing of the LatinoPro app, set to be available on Android and iPhone.
C&LD director Ron Buchholz said part of their role is looking at lots of employers who might hire UW-W graduates and utilizing various job search tools to work with them.
"Some employers come to us and say 'we'd like to diversify our workforce,' or 'we have specific language requirements,'" Buchholz said. "LatinoPro will be a wonderful way to address employer needs."
Buchholz said LinkedIn asks students describe themselves in a small space, and they may struggle with that. He added LatinoPro could help to make students look better, in order to help with their job searches.
"Students don't want to be exclusive; they don't want to put all their effort into just one technique," Buchholz said. "They want to have multiple tactics for finding jobs."
This is another alternative."
Buchholz said he doesn't feel the program will present any sort of detriment to non-Latino students, because employers use a variety of techniques to find employees, and look to hire based on skillsets, with hopes for diversity in mind to best represent the community they serve.
"He's trying to help people who are unemployable at a higher rate than others, and I think that's honorable," Buchholz said.
Morales said the Innovation Center has changed his life in a significant way.
"These last few months of being mentored have taught me invaluable experience in regards to how to start and effectively run a business," Morales said.
Morales said he will hold onto the insight he has gained for the rest of his life.
"Without them, it wouldn't have gotten this far," Morales said. "They've been unbelievable in insight, and I'll forever be thankful. It's changed my life forever, and I hope that translates to my mission."
About the Writer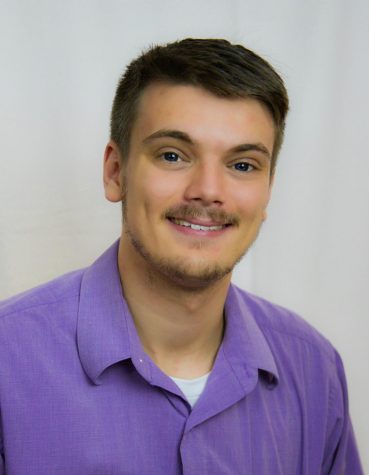 Brad Allen, Assistant Copy Editor