Is possible ACA repeal cause for alarm?
Some say no, others yes; as Trump signs executive orders
Hang on for a minute...we're trying to find some more stories you might like.
With the potential for the repeal of the Affordable Care Act (ACA), there's currently no need for concern – that's the message from health care specialists in and around South Central Wisconsin.
While both houses of Congress at the federal level, along with President Donald Trump, support actions that will lead to the breakup of the ACA, the majority of local college students will not be significantly impacted yet.
But whether or not the ACA is completely dissolved, it's never too early to start asking questions about health care plans and familiarizing oneself with the options available, said University Health and Counseling Services (UHCS) Health Director Julie Martindale.
"We're uncertain of what Trump may do, but he has been heard to say he will replace it," Martindale said. "We are hoping to see a plan come to fruition without simple cuts alone."
Open enrollment for health insurance coverage under the ACA for 2017 will still be open until the end of January.
Issue of cost-splitting

There are many positive and negatives aspects attributed to ACA, UHCS Wellness Coordinator Valerie Vargas said.
One positive aspect is "the marketplace," Vargas said. "It provides insurance options to those who never had these options before."
Another aspect of the ACA allows citizens up to age 26 to remain on their parents' healthcare plan.
"This impacts a vast majority of students," Martindale said.
However, this means a large percentage of the U.S. population is not paying for health care, which drives up the cost for other Americans.
"When young adults don't purchase insurance, it messes with the whole system," Vargas said. "Prices go way up when there is less cost splitting."
Young adults are the least likely to have health issues or seek help, Martindale said, adding that it's better for the entire system to have more young adults on plans.
"Many patients struggle with formularies," Martindale said. "Parents struggle with it as well, because it means letting go."
Assistant Professor of Political Science Louis Fucilla said it is tough to forecast to what extent a potential repeal of the ACA would impact UW-Whitewater students.
The provision to allow students to be on a parent's plan is not one of the parts of the ACA that has been criticized too much by opponents of the law, so it might be one piece of law that is not in jeopardy of being repealed, Fucilla said.
"If that is the case, then students under 26 who have access to health care through a parent may not face any additional economic hardships or have different access to health care," Fucilla said. "Students over 26 who are not getting insurance an employer may be impacted, but this depends on any replacement plan that emerges as the alternative to the ACA."
The process of enrolling in a health insurance plan is similar to car insurance, Martindale said. Many components are not taught in schools, and it can be overwhelming for young adults whom have never dealt with it before.
Few students have come forward to UHCS with questions or concerns about the potential for the ACA to be repealed.
"We would like to educate students about the marketplace and about how to get them enrolled in their own plans," Martindale said.
It's important to judge one's own healthiness, Vargas said, "because you are kind of betting on yourself."
First, students must figure out what type of health care is best for them. Badgercare is very useful for college students, Vargas said.
There are many private and government health insurance companies, and insurance can be bought anytime.
"We want our students to be healthy," Martindale said. "Health insurance can seem complicated, but UHCS has tools to help people take ownership of their health."
Defunding of Planned Parenthood begins

On Jan. 23, Trump signed an executive order calling for defunding of Planned Parenthood services that provide advice on safe abortions, raising concerns among some that unsafe abortions will be sought in the absence of government-sanctioned and funded programs.
Defunding of Planned Parenthood would block patients from using Medicaid at Planned Parenthood health centers, meaning people who are struggling financially would be unable to use health insurance at Planned Parenthood offices.No federal or state taxpayer dollars, including Medicaid, can be used for abortion services.
Planned Parenthood is a separate issue from the ACA. A cut in federal funding will primarily, though not exclusively, affect women.
Planned Parenthood provides a wide range of health services with the funding it receives, Fucilla said. It is important to note that abortion is not a service that the organization can use federal funds to support, he added.
"Federal funds can be used for other services like general health care for both men and women, STD testing and treatment, cancer screenings and pregnancy testing and wellness care," Fucilla said.
A cut in funding would affect the organization's ability to provide these services at free or reduced costs to the populations it serves which are predominately low income, Fucille said. This may be offset by the organization, a non-profit, securing funding through private foundations and individual donors but it would face a big challenge in doing so.
"Women deserve access to essential preventive care like cancer screenings, well-woman exams and birth control," said Iris Riis, Media Relations Specialist for Planned Parenthood of Wisconsin, Inc. "These are the services Speaker Ryan's proposal would impact. Wisconsinites need more access points for health care – not less."
Efforts to kick Planned Parenthood out of the Medicaid program would make it more difficult for college students and others who depend on Planned Parenthood to access essential preventive health care like cancer screenings, well-woman exams, STD testing and treatment and birth control.
– Co Editor-in-Chief Kimberly Wethal contributed to this report.
About the Writer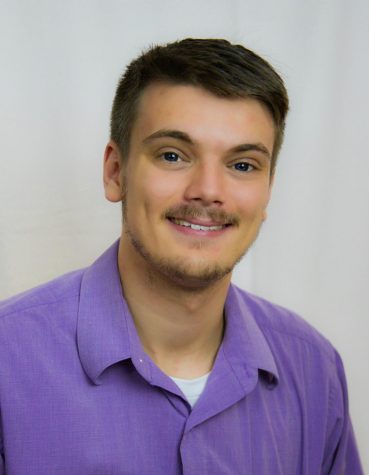 Brad Allen, Assistant Copy Editor