Freshman seizes first place opportunity
Maricela Castillo awarded for presentation at business event
Hang on for a minute...we're trying to find some more stories you might like.
Winning first place in a national business competition as a freshman in college was the last thing she had expected to happen.
But that's what happened for Maricela Castillo.
The freshman earned first place for her presentation on Unbanked and Underbanked populations in the United States at the Credit Union National Society (CUNA) Mutual Framework for Opportunity Convergence and the Utilization of Sustainable Solution (FOCUSS) competition on March 10.
Unbanked populations are citizens who are not involved in the banking system in any form. Underbanked populations are people who bounce from place to place and are not fully committed to any one banking system.
"Honestly, I didn't even think I would win anything. I did it just to get experience," Castillo said. "I went and put an idea together to present, but I didn't expect to win."
Castillo said one of the judges approached her after the presentation to tell her "there's no way you didn't win." The judges convened, and shortly thereafter announced Castillo had placed first.  
"I was in shock," Castillo said. "It was surreal."
She learned about the completion through Associate Professor of Marketing Dennis Kopf, with whom she has been collaborating through the Research Apprentice Program. Castillo's role in the project has been to assist with research related to business courses offered nationwide at universities with large Latino populations or campuses with other significant minority populations.
Part of Castillo's presentation entailed providing a solution to the problem she proposed through research. She said her solution was to create a phone application for youths to use in order to become involved in the banking system, and to also create a separate online program for elderly persons to use to get involved in the banking process.
This research project inspired her to investigate and present on another topic for which she was awarded first place.
"She came up with everything for her presentation," Kopf said. "I just gave her some advice."
Castillo said the majority of unbanked and underbanked populations are elderly persons or youths whom identify as part of a minority group, mainly Latinos and African Americans.
Castillo said a resource for UW-W students is to seek advice from the UW Credit Union on campus, located in the lower level of the University Center.
"It's scarier to be unbanked than to be in a credit union," Castillo said. "Credit unions have a lot more advantages than banks, because you're a member of a community."
She added that it is easy to receive loans or insurance grants through credit unions.
The next national competition hosted by CUNA Mutual will be held on April 19 in Madison. Castillo will present her research a second time at the next event, competing against other first place winners from around the nation.
Castillo described her schedule as hectic. She said she has been meeting with three different advisers each week as she prepares for the next event.
Castillo says she has neither completed nor been enrolled in any marketing courses at UW-Whitewater, but she holds a keen interest in the field.
"Financials doesn't always have to be depressing," Castillo said. "It can be fun."
Kopf said he commended Castillo for competing against juniors and seniors at the competition.
"If you have a clear purpose and know what you want to do in life, you can accomplish a lot," Kopf said. "The great equalizer in life is hard work, and even freshmen underdogs can pull ahead."
Kopf describes Castillo as enthusiastic, intelligent and very responsible, adding that these traits and other little things can add up to give individuals a professional advantage.
"It's up to an individual to forget their own path in life," Kopf said. "You can't really know until you go out and do stuff."
For those who aren't yet sure where their passion lies, Kopf advises attending events and competitions, whilst seeking feedback along the way.
"You know what you like and don't like, so it's a matter of introspection and asking for opinions," Kopf said. "Part of finding your passion might mean asking for feedback. Sometimes people find opportunities because of advice from a mentor."
That is precisely what happened for Castillo.
"Take chances, go out to these events, because not many people do," Castillo said. "I didn't think I would win. So take a chance, see what you can do."
About the Writer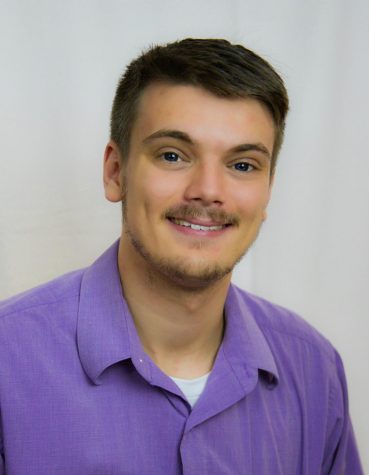 Brad Allen, Assistant Copy Editor