Internship focuses on educating about farm history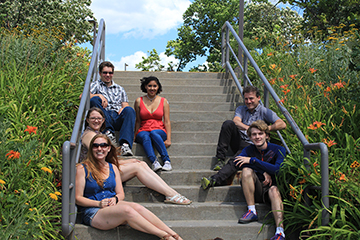 The Wisconsin Farms Oral History Project is a project born from the University of Wiscon- sin-Whitewater's Public History program. It is now a statewide initiative that began in 2012 and is making headway with uncov- ering much of our state's rich agricultural history.
The project's leader, assistant history professor, James Levy, has plans to collect the previously unheard voices of farmers and workers in the agriculture indus- try around the state.
The ultimate goals of the proj- ect are to prompt conversation and collaboration while building a large collection of stories and artifacts that would capture Wis- consin's large history of farming, community and culture.
The Farms Project asks, "How has food production and food consumption in Wisconsin over the past 80 years influenced com- munity development, regarding ethnic and cultural dynamics?"
Levy and the project's interns have gathered a lengthy amount of information by interviewing Wisconsin residents with a back- ground in agriculture. The project reaches out to interested farmers within Jefferson, Rock and Walworth county for interviews.
UW-W is not the only UW cam- pus involved; interns from Mad- ison, Milwaukee, Oshkosh and Eau Claire have collected their own interviews, gathering stories from all around the state.
Levy says the diversity of Wisconsin's agricultural history is in its distinct stories and farming practices.
These interviews are tran- scribed and stored in various formats for archival purposes and displayed to the public through educational tours, such as The Lands We Share Initiative.
The culmination of all this in- formation will be used to engage students from K-12 to post-graduate levels in hands-on, enhanced understanding of farming, food politics and sustainability.
The project will bring better understanding to a new generation of students, who might be more motivated to foster a career in agriculture.
In the end, the project isn't just about archiving history; it's about sharing stories, teaching commu- nities and bringing people togeth- er to benefit the future of farming.
Currently, the project has collected well over 300 interviews throughout the UW campuses; that's 300 unique stories, back- ground and perspectives. As the project continues to grow, it receives more support and attention each year.
Feature stories about Wisconsin farmers, editorial articles about agriculture and short stories inspired by the rich history of farming can be found on wiscon- sinfarmers.weebly.com.