Shot girl shares how job has impacted life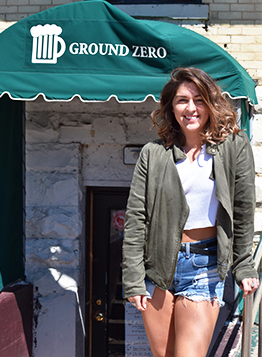 Hannah Jewell, Staff Writer
April 24, 2017
Hang on for a minute...we're trying to find some more stories you might like.
Being a shot girl is not as easy as it seems.
Drunk college students, late hours and school are among the few factors that a shot girl might face. Rae Ahrens can attest to these issues.
Haley "Rae" Ahrens, 21, worked at Whitewater's Ground Zero for almost a year and a half while attending school at UW-W. You may remember the recent college grad by her vibrant purple and pink hair and outgoing personality.
Starting off, the hours were difficult and readjusting to the time change was just as hard. For most nights, Ahrens went to bed as late as 4 a.m.
"I am staying up until 2…then I come home and I am wired up and I'm hungry," Ahrens said.
Ahrens frequently skipped Monday classes. As the issue grew, Ahrens started to force herself to get up earlier and taught herself how to handle the lack of sleep.
Trying to juggle work and school proved to be problematic right off the bat. After getting into the swing of things, Ahrens focused on prioritizing her time and putting school on the top of her list. She began to be strict on getting schoolwork completed.
"There was definitely a couple times I would be walking around selling shots and having that 'oh s**t' moment when that paper was due and I am at the bars." Ahrens said.
Scary moments
There were also a few altercations with bar goers that cause Ahrens' friends and family to be wary of her job.
When she first started working at the bar, Ahrens said there was a time when three men came into the bar, two in their mid-twenties and one in his forties. The older gentleman began to grab Ahrens; she instantly felt "creeped out." After the man grabbed her again, she had them kicked out.
After her shift, around 2 a.m., Ahrens began to walk to her car and noticed that the group of men were standing outside of the bar.
"My instincts kicked in and I am like 'Don't walk to your car because they will know what kind of car you will have,'"Ahrens said.
Ahrens decided to walk to a nearby bar. The group of men began to follow her. The older gentleman grabbed her by the hips and spun her around. Ahrens began yelling at the man to leave her alone and she attempted to hit the man.
"I was ready to fight or run," Ahrens said.
A group of what Ahrens believes to be football players stumbled upon what was happening, and they walked over to help her which caused the older gentleman and his friends to leave.
"I almost quit right then and there,"Ahrens said. "I was like this is super scary and sketchy."
That night, Ahrens told her parents about what happened. Ahrens father then purchased her a Taser to carry when she left the bar.
Since that incident, nothing remotely similar happened again, but Ahrens did insist on having a bouncer walk her to her car.
Ahrens admits that even with all the craziness, she wouldn't change anything. She attributes earning lifelong friends to her job at the bar.