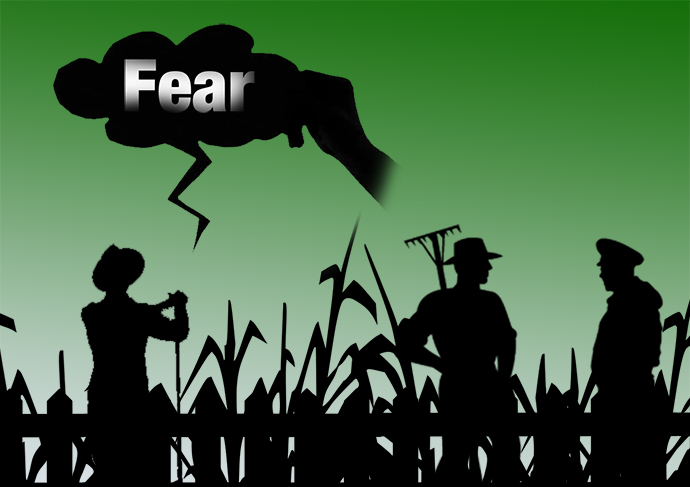 Graphic by Colin Talo / Assistant Graphics Editor
The United States government is not "rounding up illegal immigrants," some officials say, but many farm workers – some of whom are undocumented citizens – still hold fears regarding the prospect of federal agents marching into their workplace and removing them by force.
President Donald Trump signed an executive order on Jan. 25 that expanded the government's priorities regarding deportation and rolled back some limitations regarding how Immigration and Customs Enforcement agents could conduct their jobs.
This order spurred concerns for some workers and farm owners who fear their industries will sink without the significant help of undocumented Hispanic citizens.
Hispanic workers as an asset
Dodge County resident Carissa Taylor has worked on multiple farms in Wisconsin where the majority of workers are immigrants. She works in the calf barn with four immigrant workers at the current farm where she is employed.
Taylor agreed to speak with The Royal Purple on the condition that her current place of employment not be listed, out of concern that some undocumented citizens employed there could potentially become targets for deportation.
The farm where Taylor works employs 10 other Caucasian workers and 12 Hispanic workers, some of whom are undocumented citizens.
"If we didn't have these immigrant workers, we wouldn't be able to keep going," Taylor said. "If not for these workers, our agriculture industry would be hurting immensely."
"They don't complain," Taylor said. "As long as they're treated fairly, they do a good job."
Hispanic workers are willing to put in the extra effort, whereas some Caucasian prospects "just want the 'nine to five,'" Taylor said, referring to regular workday hours instead of lengthy, less-traditional work shifts.
Taylor said she has spoken with her Hispanic coworkers, many of whom are concerned that either they or someone they know could be deported.
"They're worried about what's going to happen if they go back to Mexico," Taylor said. "It's hard to find jobs there."
Many of these individuals – who have been in the U.S. for more than 20 years – have children whom are American citizens, she added.
Many workers choose to keep specific personal details to themselves.
"If we treat them with respect and as human beings, they will stay here," Taylor said. "There's no job turnover with Hispanic workers."
Whether farm workers are U.S. citizens, legal permanent residents, seasonal laborers on special guest worker visas or undocumented citizens, most are affected by immigration status.
An estimated 78 percent of farmworkers are undocumented citizens, according to a National Agricultural Workers Survey and the National Farm Workers Ministry website.
According to a 2005 survey by Student Action With Farmworkers, 53 percent of farmworkers are undocumented, 25 percent are United States citizens, and 21 percent are legal permanent residents.
ICE's focus on criminals
President Donald Trump's Jan 25 executive order on immigration policies expanded ICE's authority to conduct operations to deport illegal immigrants in all states – whether they have a work Visa or not. But the focus of this order is on immigrants whom have committed crimes, officials say.
Karen Gefvert, Director of Governmental Relations for the Wisconsin Farm Bureau, said local law enforcement can act as an immigration force, but no such instances have occurred in Wisconsin.
"It could happen, but there's no firm indication," Gefvert said. "There's a fear of something that probably won't happen. But, employers could at any moment lose a large chunk of their labor force. That is a very real, valid concern.
In an Associated Press article that appeared in the May 1 edition of The Janesville Gazette, it was reported to many immigrant workers at the Kentucky Derby, a famed horse-racing track, fear the prospect deportation and often hide from the millionaires who visit the track. These workers are a vital asset to the races, and without them, it would be difficult to find new workers to fill those roles, as The Associated Press wrote.
"The focus is on people committing heinous crimes," Gefvert said. "ICE isn't rounding up farm workers."
Dani Bennett, a spokesperson for the U.S. Immigration and Customs Enforcement agency (ICE), said the agency focuses its enforcement resources on individuals who pose a threat to national security, public safety and border security.
Secretary of Homeland Security John Kelly has "made clear" that ICE will no longer exempt classes or categories of removable aliens from potential enforcement, Bennett said, adding that all of those in violation of the immigration laws may be subject to immigration arrest, detention – and if found removable by final order – removal from the United States.
"ICE conducts targeted immigration enforcement in compliance with federal law and agency policy," Bennett said. "ICE does not conduct sweeps or raids that target aliens indiscriminately."
"While the United States welcomes lawful immigrants and visitors, our borders are not open to illegal migration," Bennett said. "Those apprehended at the border while attempting to unlawfully enter the United States – or those whom have violated the terms of their visas, have been ordered removed by an immigration court, have no pending appeal and do not qualify for relief – must be removed."
Gefvert said there is "no cookie-cutter model for farms," with agricultural industries employing different labor forces to produce various commodities.
As many farms grow larger, the owners need to seek labor outside of traditional multi-generational farming families. This is where immigrant workers generally come into play.
"While there's concern [of deportation raids by ICE] fearmongering that it will happen to every single farms leads to more stress in rural America," Gefvert said.
Fewer deportations in 2017
Mexican foreign minister Luis Videgaray told Reuters that there has not been a drastic increase in deportations this year. In fact, Videgaray said, the pace of deportations is actually down slightly in 2017 as compared to 2016.
But the sense of fear is very present for many immigrant workers, whose concerns of deportation have not wavered.
Videgaray told Reuters that Mexican consulates were receiving more phone calls from worried individuals after several news articles surfaced about ramped-up deportations.
"Illegal immigrants currently living in the United States clearly believe that deportations have gotten worse, and the combined efforts of the American media and the Mexican government have caused borderline panic in that population," digital news network The Blaze wrote in a Feb. 13, 2017 article.
Immediate conversations come about where there are concerns, but fears of ICE raids have "somewhat calmed down" in recent weeks, Gefvert said. "Employees are feeling a little bit more secure and at ease."
Citizenship not the goal?
Generally, it is uncommon for farming employers to conduct background checks on employees, Gefvert said.
Some undocumented workers don't even want to become U.S. citizens, she added. Some just want to work, make money and then go home.
Employers' hands are tied, Taylor said, adding that they stay on top of ensuring workers can provide legal documentation in order to protect them from deportation. Many employers give their workers time off as needed for them to complete necessary steps to become a U.S. citizen.
Slow progress in Washington
A large majority of the American population wants immigration reform, but the process is not simple, Gefvert said, adding that "you can't fix one aspect without fixing others."
Many members of the Wisconsin Farm Bureau are frustrated with slow progress in Washington.
The Royal Purple reached out to Laurie Fisher, CEO of the American Dairy Corporation, who is currently working on the issue of immigration policies and the potential impact farming industries. Fisher was not able to offer comment at press time.
"There's been talk of reform, but nothing has been accomplished," said Sandy Larson, Dairy Production Manager for Larson Acres, located in Evansville. "There's certainly hope for creation of new policies."
Larson Acres employs 70 people, with a significant majority of workers being Hispanic. Larson did not disclose whether any of the workers are undocumented citizens.
"Without immigrant workers, turnover would be high, and it would be hard to remain fully staffed," Larson said.
Tight-knit communities
Miguel Miranda, President of Latinos Unidos, has worked at Standard Process – an organic vitamin manufacturing company in Palmyra – for two summers. His parents are also employed there.
Miranda's father, who immigrated to the United States from El Salvador in the 1970s, previously worked for Kincaid Farms in Palmyra, planting corn, potatoes and onions.
Kincaid Farms relies heavily on its large labor force for growing crops, pulling weeds, cleaning silos and operating farm equipment, Miranda said. He added that Kincaid Farms used to employ many Vietnamese and Hispanic undocumented immigrants, but he was not sure if this was still the case.
Many workers and their families in Palmyra live closely together, which helps make them feel more safe from the risk of deportation.
"They don't like to put themselves out there, especially with the new policies," Miranda said. "Even driving into town can be a big risk. They're very tight-knit communities."
Miranda said the primary concern of workers is that authorities are targeting people who look like immigrants. These instances can include – but are not limited to – persons getting pulled over for a minor traffic violation or sometimes no reason at all, because the driver has a darker skin tone or other features or perceptions stereotypically applied to Hispanic immigrants.
Factories are sources of immigrant workers, in addition to farms. Generac is Whitewater and Tyson in Fort Atkinson have large numbers of immigrant workers, Miranda said.
Overturning stereotypes
Miranda said he believes the public should be educated to overturn stereotypes.
"Immigrants aren't here to steal jobs," Miranda said. "Most are not criminals. They just want to work."
Foreign-born workers contribute a large portion to the economy, and deporting these individuals would negatively impact the U.S. economy, Miranda said.
"It would make more sense to help these people and provide documentation for them," Miranda said. "They should feel welcome, safe and included in society."
Many immigrants have families, he added, whom they wish to provide a better future for.