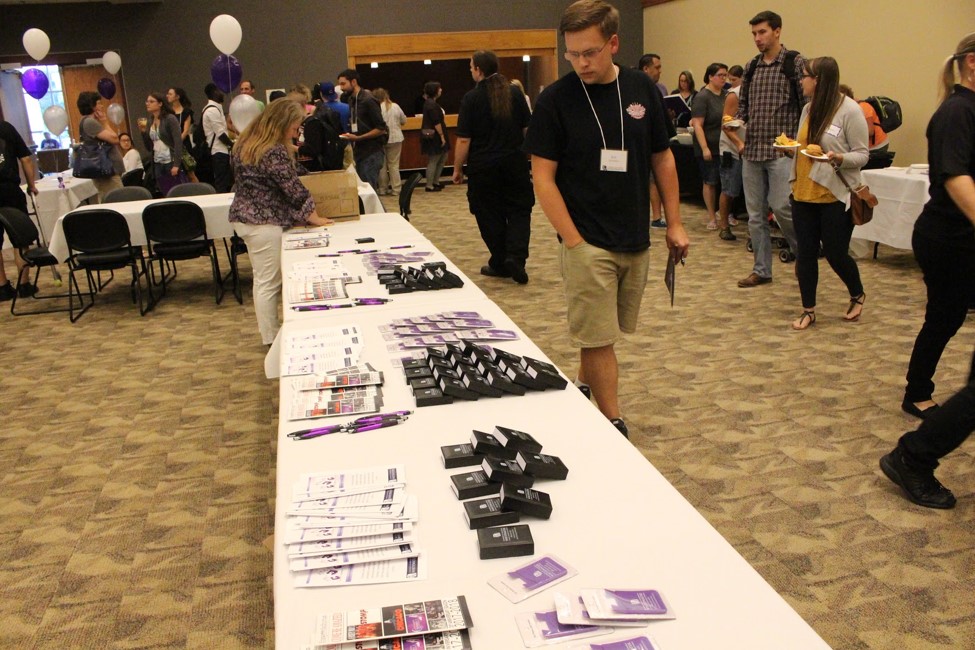 Benjamin Pierce
Nontraditional students were welcomed to campus last Wednesday at the sixth annual Adult Student Welcome Event in the University Center.
The event was designed to get nontraditional students acquainted with campus and understand how parking, textbook rental and other facets of UW-W life work. The event also provided students the ability to network with other nontraditional students before classes start this week.
New students also got the opportunity to receive advice from a panel of current nontraditional students and faculty.
Adult and nontraditional students coordinator Lynn Smith organized the event, which she thought went very well.
"It was an opportunity for this demographic of our campus to have their own time with each other and to meet people. We tried to make it a nice, family friendly atmosphere and make sure the students could get acquainted in a laid back and casual way," Smith said.
Current nontraditional student and communications major Colleen Hermes came back to school after a divorce. She had words of advice for the new enrollees.
"I honestly didn't think I could do it," Hermes said at the event. "I got a 3.0 GPA my first semester and I was in tears. Seeing that I can do this has been amazing," she said. "Keep your head up because you really can do it."
UW-W Provost Susan Elrod had words of wisdom for the nontraditional students.
"We hope that you'll be able to find your dreams here. There are people here to help you. Know that we wouldn't have admitted you if we didn't think that you could do this," Elrod said to the more than 60 students and families assembled at the event.
One of those students was Shawn Wolf of New York, who has experience with Whitewater in his past.
Wolf attended UW-W back in 1993 before a new job and  family meant leaving school to focus on work. He's back to finish what he started.
"I want to keep climbing the corporate ladder at work and in order to do that I need a degree," Wolf said. "I thought about it and this is where I started so many years ago. I'd like to finish what I started here."
Smith said that the nontraditional students offer a great asset to campus that traditional students can learn from.
"Nontraditional students are often so dedicated and so driven because they have that end goal in mind. They bring a wealth of practical workplace experience and they serve as great role models for traditional students," Smith said.
Smith also had some advice for nontraditional students.
"Oftentimes nontraditional students lack confidence but once you let that barrier down, you will see that you truly can do this. Life gets in the way sometimes, but you are never too old to learn."
The university plans to celebrate Nontraditional Student Week Nov. 6-11, which is a national celebration that aims to celebrate the accomplishments of nontraditional/adult students. UW-Whitewater will recognize five outstanding nontraditional students as well as give one faculty member the Concern for Adults Returning to Education (CARE) award.