Winter Market finds new location
Hang on for a minute...we're trying to find some more stories you might like.
The first Winter Market was held last year at the Cravath Lakefront Center in downtown Whitewater. However, the event's organizers decided this year to change the location to the Irvin L. Young Memorial Library.  
Whitewater City Market co-manager Kristine Zaballos explained why the market didn't work at Cravath, "the results were mixed because the building is somewhat off the beaten path and not very visible from Whitewater Street and people would forget to come and/or be caught up in things like getting their kids to sports, etc."
Zaballos said she wanted the market to be held in a community gathering place, where people would already want to go, so they got in contact with the library.
When approached by the organization, Library Director Stacey Lunsford was interested but had to get over a few hurdles with the library's executive board before the decision was made.
Lunsford's initial concerns were about the library's by-laws, which state that someone cannot use the library's free spaces to the public for self-interest in raising business. Lunsford explained, "our policy states is that we don't let people try to drum up business for themselves, we don't let people do that because it's free."
However the library board decided that they would allow the Winter Market to use the space because it directly impacts the community and promotes connectivity between citizens and small business.
The Winter Market is significantly smaller than the Summer Market in part because of the weather. Winter weather prohibits an outside market, thus the need for a smaller inside space.
Numbers are not final for the market sign up, but Lunsford expects it to be between 8-10 vendors. According to Zaballos, vendors signed up right now are Kettle Moraine Honey, Wood Street Bakery, CJ's Sweets and Treats, Stephani's Spot and KM Jewelry.
The library had a booth at the Summer Market which included a small selection of books and a remote library card signup. They will have a space at the Winter Market, it's not certain what they will do but Lunsford thinks it may involve reading to children as the parents shop.
The Winter Markets have always drawn less people than the Summer ones, but Zaballos hopes the new location will boost participation, "I would guess that Winter Market attendance last year was about 50-100 people per market with an average of six vendors each week. We certainly hope to increase that in our new location," Zaballos said.
Even though the Winter Market may not bring in the same numbers, Zaballos said it is important to not only the vendors, but overall community well being.
"Local residents are going to look for access to those products, and, perhaps most importantly, there's a community gathering aspect to the regular market that people genuinely miss when the regular market season is over," said Zaballos
The 2018 Winter Market season will run every second and fourth Saturday at the Irvin L. Young Memorial Library from 10 a.m. – 1 p.m.
About the Writer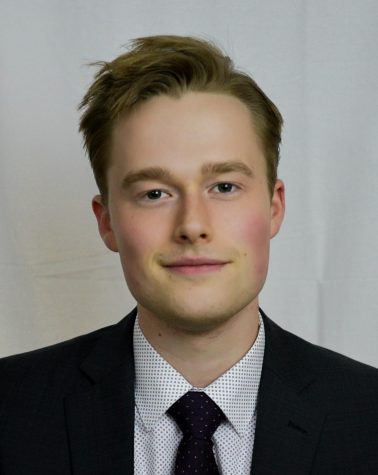 Garrett Kluever, Advertising Manager