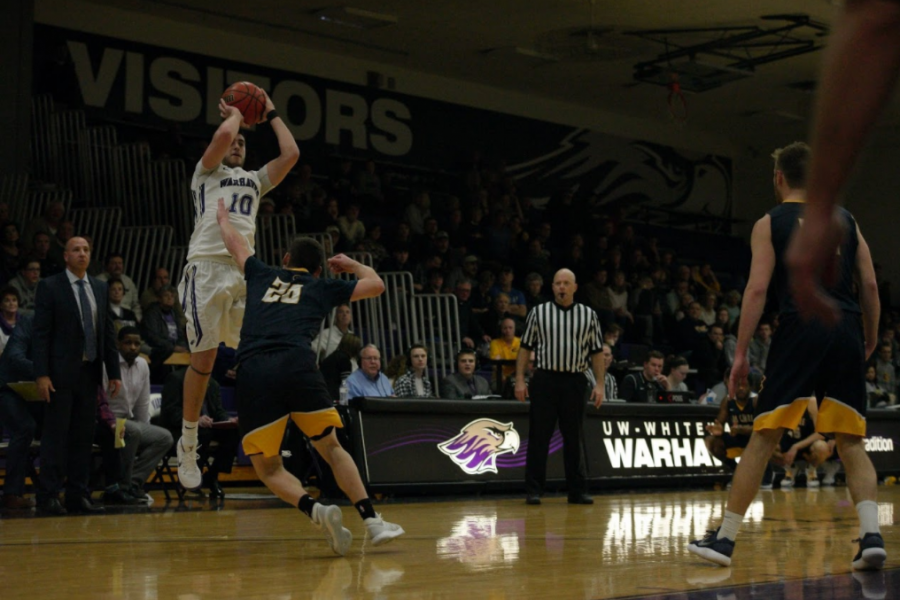 The No. 8 UW-Whitewater men's basketball team rebounded from their previous loss against UW-Platteville to handily defeat UW-Eau Claire 75-59 Jan. 27 at Kachel Gymnasium.
UW-W's 3-point shooting, like in many other games, was the main takeaway from the contest. After being down 4-0 early, the Warhawks went 7-for-8 on threes in the first half and led 40-30 at halftime.
The Warhawks' offense stumbled briefly to begin the second half – largely because the team could not click on any 3-pointers – and the Blugolds were able to trim the lead to four.
But a triple made by junior guard Dalton Menke roughly eight minutes into the half sparked a 10-2 run for the Warhawks, which gave the team a comfortable lead for the rest of the game.
Menke and junior forward Derek Rongstad were the main contributors from the 3-point line, shooting a combined 8-for-13 (61.5 percent) throughout the game. Rongstad and Menke put up 16 and 12 points, respectively.
Rongstad said that the key to successful 3-point shooting is team play.
"I think it's all about working the ball," Rongstad said. "When we work the ball and work it inside…that's when our shots fall a little more."
As a team, UW-W made 54 percent of its shots and shot 57.1 percent from the three-point line. Junior guards David Sachs and Mitchell Pfeifer and junior forward Marquis Turner made the other four 3-pointers.
UW-W head coach Pat Miller said that hitting triples are a must for his team.
"Well hopefully it gives us confidence," Miller said. "If you look at our games throughout the year that have been shot well from three, we've had a lot of success…Our scoring on the interior is typically guards getting to the basket. But we had good, open looks tonight."
With the victory, the Warhawks improve to 15-4 overall and 5-3 in the WIAC. The win also makes for a clean sweep against the Blugolds in regular season play.
The squad's two upcoming games will be on the road against UW-Stevens Point Jan.31 and UW-Stout Feb.3, respectively.
Rongstad says that the upcoming road trip is a good time for the team to capitalize.
"The second time around, teams know our tendencies, and we're going to know their tendencies," Rongstad said. "We've got to work the ball and be a tough team."