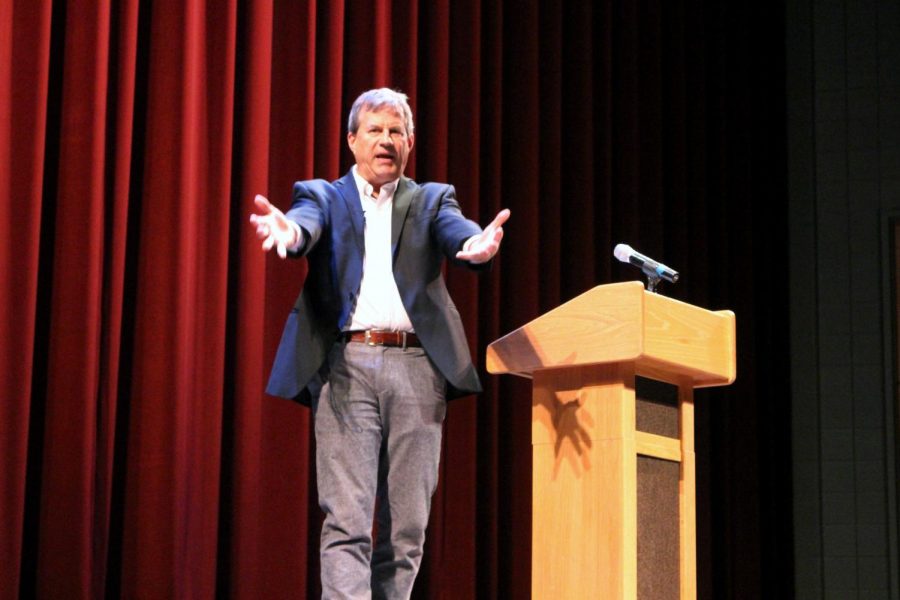 Benjamin Pierce
Opioids are taking over the United States. Not a single area across the country isn't affected by the issue, and that includes Whitewater.
Los Angeles native Sam Quinones is an award-winning author and journalist who visited campus last Monday to speak on the issue. Quinones has been writing about crime and opioids for decades and wrote his book Dreamland on the issue of addiction to the drugs.
"The truth is there's not a place across the country that isn't affected by this. I had written a story about heroin trafficking and after I had done the research I realized that this was a much bigger story than I thought," Quinones said.
He told attendees he believes the opioid crisis began in the 1980s.
"We were finally done with the cold war, and we began to want easy solutions," Quinones said. "Doctors saw people dying in agony and we began to argue that narcotic painkillers were necessary. Doctors began to push and kick for change."
He said the problem was kicked into high gear with the creation of OxyContin in 1996.
"We began to treat doctors like car mechanics and we were the cars. Doctors began to use prescription pads to churn patients in and out like a factory," Quinones told the crowd in a packed Young Auditorium.
"We would not have a heroin problem today if it were not for OxyContin."
By 2010 the entire world had used 92 tons of hydrocodone, but the U.S. accounted for 99 percent of usage according to the United Nations.
Quinones drew from his experiences in Los Angeles to talk about the potential solution to the opioid problem, which happens to be the same way they solved the gang problem in the city.
"Los Angeles really does not have a gang problem anymore," Quinones said. "Some of the most notorious gang-infested neighborhoods now see wooden fences and kids playing in parks. Working as a community is the only way intractable problems get solved," he said.
In order to help bring communities together, Quinones will continue to travel the country speaking to communities about their role in solving the problem.
"I really did not imagine that speaking would become an endless tour, but the book did something no other book has done on this topic. Books don't often break a story," he said.
UW-Whitewater senior Jamie Schiesel has seen exactly what Quinones was speaking about and likes his idea for a solution.
"I know there are a couple of counties back where I live that struggle with it a little bit. I enjoyed that he was in for community to solve problems. I think if people actually care about one another and involve their lives together we could make a better place."