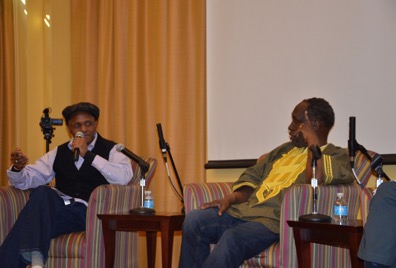 Dana Hockbein
Many students know Dr. Ndirangu Wachanga as a University of Wisconsin-Whitewater professor, but he has also created a few documentaries over the past several years. One of those documentaries was presented in the University Center to community members and students in mid-October.
The film, titled "Ngugi wa Thiong'o: The River Between African Languages and European Languages," documented the life of Ngugi wa Thiong'o and the struggles he faced. Along the way, viewers got to watch Thiong'o try to discover and rediscover himself during notable points throughout his journey as a journalist, activist, playwright and novelist.
Wachanga traveled all over the United States as well as Africa to make this film possible. After six years of hard work and the help of some of his students, the film was finally created.
Wachanga described it as a documentary in which "those voices we refuse to hear" are brought to life in the hopes of diminishing some misconceptions about Africa.
After the film was screened some audience members asked several questions regarding language and the discrepancies between writing in native tongue or English. Wachanga said "translation is the language of languages" and continued to engage the audience with his perspective of the power of language.
Senior Taylor McGee said she thought the film could be utilized in a classroom after giving a short synopsis.
"You could have a great discussion about the controversy in creating an English version before creating a version in your native language and how that could be interpreted, especially from a linguistic point of view," McGee said.
McGee added that interpreting words from different languages doesn't always match up or have the same impact as the original word.
Wachanga has not yet submitted this film to any festivals. He has screened the film at ​​Harvard University, Princeton, Yale, Cornell, Amherst College, University of Massachusetts—Amherst and UW-Madison. He is also screening the film this week at the London School of Economics, University of London and to the Kenyan community in London.