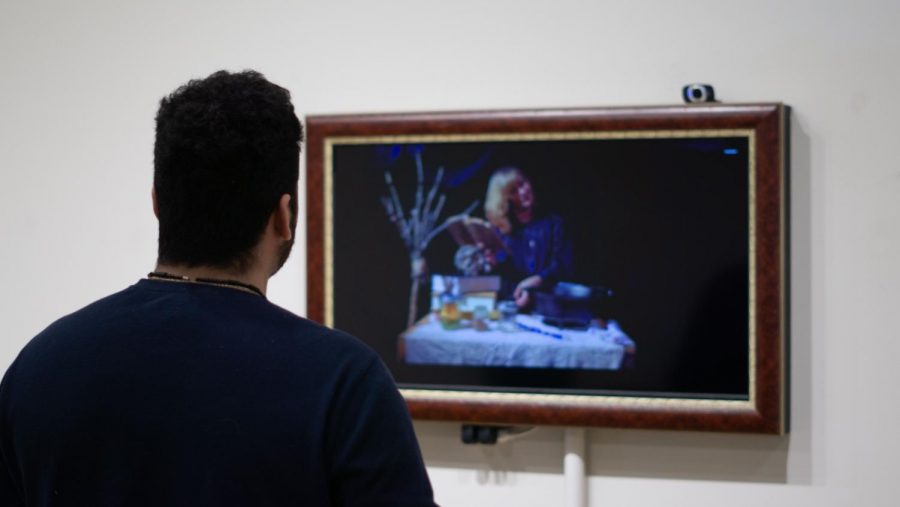 Louis Thompson
Inspired by Harry Potter's animated artwork, "Moving Portraits" is an exhibit created by students and UW-W staff that showcases work created using special effects. The exhibit can be found at Roberta's Art Gallery until April 17 and will be hosting a reception starting at 4:30 p.m. April 8.
The exhibit was a project for media and gaming students to practice editing and using a green screen. For many students and for Roberta's Art Gallery, this was their first time working on an exhibit like this.
"This is something different. Normally we do photography or regular paintings, but now it's actual TVs integrated into the wall. We've never had anything like this before," said senior Alfredo Gomez from Roberta's Art Gallery.
The idea for the project originated from the Warriors and Wizards Festival held in Jefferson. They approached the university wanting to involve more students, and Professors Bill Miller and Nick Hwang extended this opportunity to their students.
Breanna Addie, a senior double majoring in international relations and media arts and game development, is one of the students included in the exhibit. She designed a witch portrait that featured her friend Moriah Nettesheim as the witch.
To create her moving portrait she had to use After Effects and Premier, but she said she only had basic editing skills. Miller helped her learn things like how to create the smoke effect in her portrait. Her video is one of the few that includes a sensor in the exhibit and moves any time it is triggered.
Other projects in the exhibit were made in groups. Cesar Bouwkamp, a senior currently studying abroad from the Netherlands, explained what it was like to work on these projects with his group members Alex Burns, Olivia Chovan, David Sevald, Joe Hammond and Nick Spaeth.
Together they filmed and edited a few of the pieces, one of which includes a Bob Ross themed moving portrait.
"We are all big fans of Bob Ross, so we thought it would be cool to have a portrait of somebody painting. It's kind of like inception, a painting inside a painting," Bouwkamp said.
Bouwkamp said he had never worked with a green screen before, and for him it was a great experience learning how to work with one.
Bouwkoup is a communication and multimedia design major in the Netherlands and said he has enjoyed his study abroad trip so far and working on this project.