'RAIN ON FIRE' sparks conversation
Play from Theaterworks Br!NK evolutionizes thoughts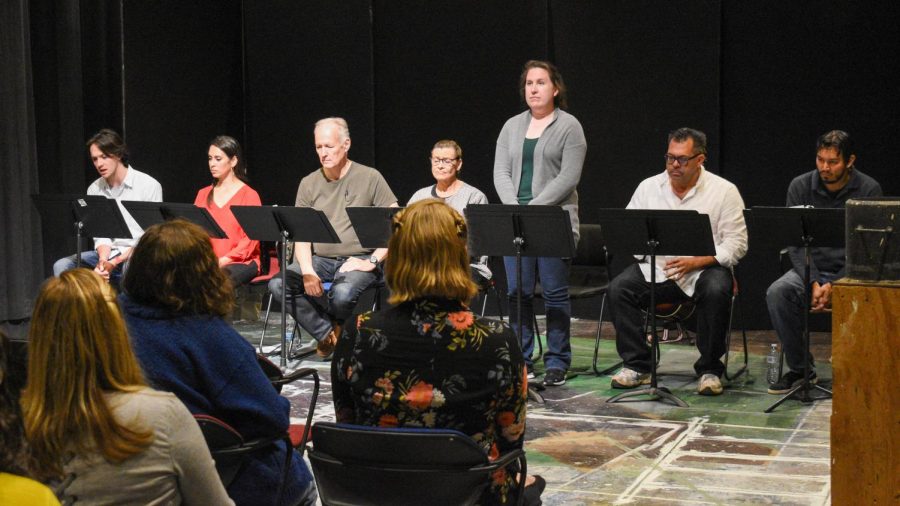 Danielle Kronau, Assistant Arts & Rec Editor
September 10, 2019
Faculty, students and staff attended the play "RAIN ON FIRE" at the renaissane Theaterworks Br!NK New Play Festival playwright performance in the Barnett Theatre on Wednesday, Sept. 4 at 7 p.m., where the performers sat and stood behind their music stands and read their parts aloud to the audience. Playwright Karen Saari explained that almost every play is done this way and it has an important role in the play's development as a lot of plays go through this process a few times before they are ready for full production.
Before the show started, Escher Wentz, a junior majoring in Theater Arts Management who attended the playwright performance stated, "I don't know if I'm necessarily looking forward to something in this performance in particular, but I've attended stage readings in the past. But I find them to be more of an intimate experience than just, like, seeing a play. So it's more for the sort of medium it's being presented in. But I'm all for the empowerment of female playwrights, you know? Because I want to see people getting their work out there whose voices might otherwise be silenced. So, it's for a good cause, I guess," Wentz said.
The show was about the daughter, Marie, a failed musician, who comes back home to plan her mother Lorraine's funeral, who had died from a pill addiction. Marie learns that her mother had a request for her and her cousin, Caleb, which was that they play one of Lorraine's own songs for her funeral. Caleb is a meth-user who cared for 'Rain' in her last few months before her death. Throughout the script reading, with the emotional support of her friends and family, Marie learns how Lorraine went from feeling fine to overdosing on drugs. One other theme in this performance was not just drug use, but it was also how all the characters empathized with one another in a tough and sad situation.
After the performance, the small audience was allowed the chance to not only comment on playwright Karen Saari's script, but to also give her suggestions of how the play could have been better. The audience pointed out certain moments in the script and its performance where it was difficult for them to follow the storyline and where some certain moments of the play did not make sense.
"To me, effective story-telling isn't taking this big thing that's happening and trying to explain it. You can be more effective when you kind of get down to the nitty gritty by showing how it affects one person, one family," Saari said.
This performance had a deeper meaning to it, as it was more than just a script being read among all of the characters. It told a story of how easy it is for someone to fall into drug addiction and how loved ones who mean well might not have the best sense in how to help the one in trouble.
Rana Roman is a performer whose role is Gloria Pizzi-Ramirez, the nurse practitioner who cared for Lorraine up until her last six months of life.
"Gloria's greatest attribute is her empathy and compassion, which is something that is incredibly important if you're working in the medical field," Roman said.
This Midwestern playwright performance, "Rain on Fire" was a unique and very realistic lens into how drugs and opioids can affect a single family and a single person.
To submit a script to renaissance Theaterworks Br!NK New Play Festival, visit www.r-t-w.com/br!nk-festival for more information.