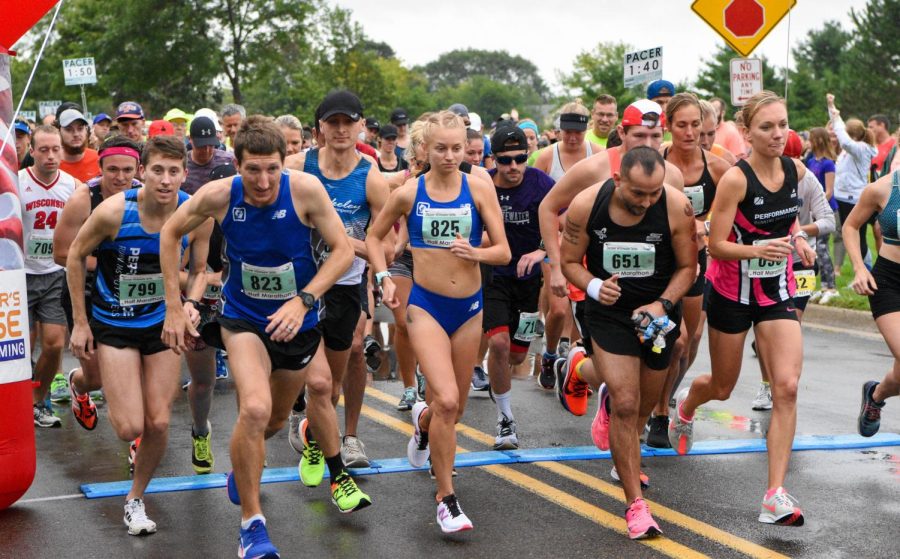 Robbie Elsbury Jr.
The weather was cloudy with intervals of rain passing through, but that didn't stop hundreds of runners from waking up and running on Sept. 22 for the seventh annual Discover Whitewater Series, which comprises of a half marathon, half marathon relay and a 5k run.
Over 400 runners of all different ages and locations gathered to compete in this elite race, as it is one of the two races in all of Wisconsin certified by the Chicago Area Runners Association, as well as being certified by the USA Track and Field.
"Because it is certified by the CARA," says Jeffery Knight, executive director for the series. "It is important to keep it safe, as the standards are very high to make sure it's a safe and enjoyable experience for everyone."
This is more than just a race. The Discover Whitewater Series also gives back to the community in a variety of ways, including partnering up with charities and donating to them. In the seven years Discover Whitewater Series has been running, over $158,00 dollars has been given to the rotating charities. The charities this year include Working for Whitewater's Wellness, Bethel House, Whitewater LEADS, the J-Hawks Aquatic Club and the Whitewater Unified School District.
"We generally give about 30,000 to different charities, which for Whitewater is a big deal. The charities rotate each year. It's something local to give back too, and it's such a cool way to get involved with the community, how we come together to do this event, including the amount of help we get from the university students and different organizations," says Andrea Ednie, associate professor and department chair for  Health, Physical Education, Recreation and Coaching.
Over 375 volunteers were stationed around Whitewater to help this event run smoothly. Volunteers reigned from several parts of the community, including different organizations around campus such as the swim and dive team, as well as the cross country and track and field teams.
"It's so intense to have those volunteers," said Knight. "you have to reach out, find those organizations who are willing to help, understand the value of this race. We wanted to bring major regional events to Whitewater."
Ann Massoglia, winner in the female age 60-64 age group, was impressed by how well organized the event was, and blown away by the sheer amount of volunteers.
"This is my first time running Discover Whitewater," said Massoglia. " It's actually the first time I've run a half marathon in 32 years  and it's just awesome by how kind the volunteers were, and how many of them there were. I would definitely run this course again, as well as recommend it to everyone."
Following the race, runners were treated to a free pancake breakfast provided by the Whitewater Kiwanis Breakfast Club, as well given a free day pass to the Whitewater Aquatic Center.
"That's another spectacular thing about this event," says Ednie. "We're able to give to both volunteers and runners. There's a care package, water, food, I mean, it's all just about the relationship we have with the community, what we can do for them."
More information about Discover Whitewater Series can be found on their website, runwhitewater.com.