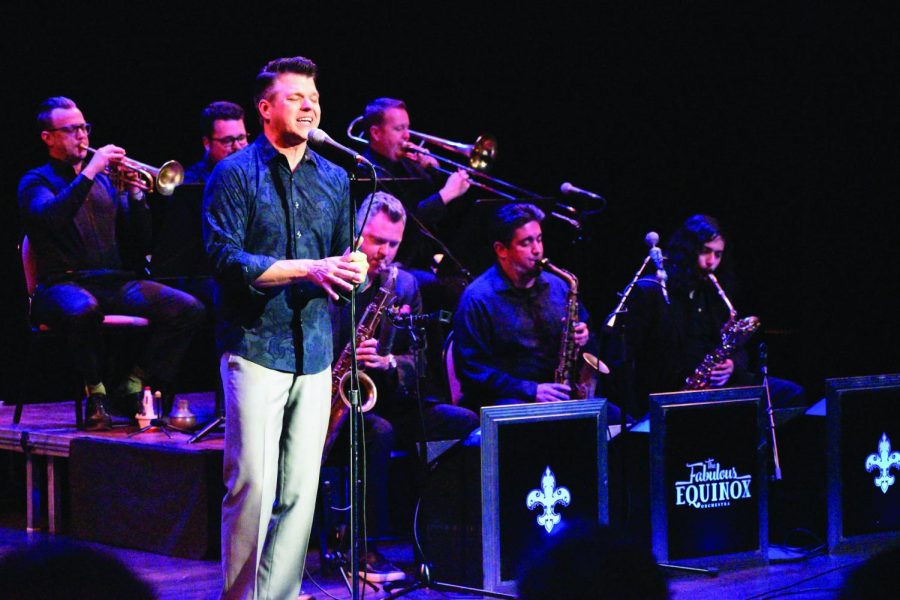 Robbie Elsbury Jr.
The entire stage of the Young Auditorium glowed with vibrant colors of lights, humor and musical artistry for attendees of The Fabulous Equinox Orchestra concert Monday, Oct. 7.
The show started with a bang as the performers greeted the audience with a surplus amount of energy. The Fabulous Equinox Orchestra played uplifting and energizing music that had people clapping and dancing in their seats throughout the whole performance. They also interacted with the audience, creating a dynamic experience for all.
"I really liked how into the performance they were, you know? Because that's what I like about jazz. You can really just get into it, especially with the improvisational solos, because they just really feel it out, you know? They just go with it," said freshman choral education major Will Dewey.
There were many moments during the performance where the audience was able to witness the friendship unfold between the two main performers Clay Johnson and Jeremy Davis, as well as with  the orchestra through some of their impromptu skits.
"I love the music, and the musicians, and just connecting with the audience. Hearing their excitement during the show and making them laugh," Davis said.
Just about every performer was given the chance to play a solo piece as the audience watched with amazement and clapped.  At times everyone in the theater was bobbing their heads to the rhythm.
Davis founded The Fabulous Equinox Orchestra 20 years ago and is its band leader as well. Johnson was invited to join the orchestra Davis was creating and became the main singer, as well as trombone player.
"We view shows as more story-telling than a concert. It doesn't matter how good of a singer you are. It's delivering the song, and the way you tell the stories that matter," Johnson said.
Just like it started, the night ended with a bang like fireworks on the Fourth of July. And after the performance, audience members were even able to meet Davis, Johnson and the orchestra members to ask questions and share compliments. For more information about The Fabulous Equinox Orchestra visit www.equinoxorchestra.com.