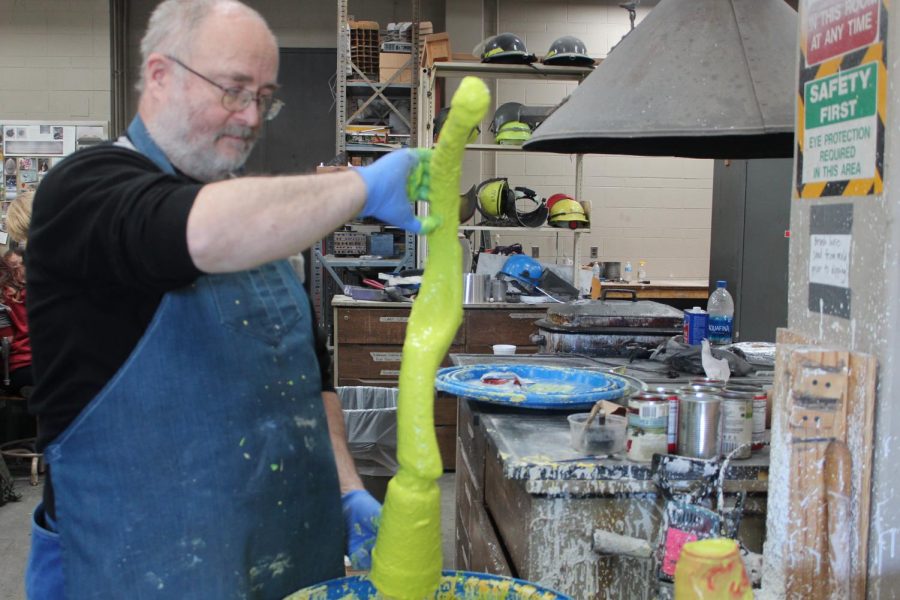 Danielle Kronau
The Iron Pour was held Saturday, Nov. 9, at the Sculpture Studio Courtyard as a way to fundraise and to create art as people talked with one another.
  There were many people who attended, from young kids to community members. Inside the sculpture studio, people created their own forms of artwork and sculptures as they ate food and beverages that were brought in. Outside the studio, Professor Teresa Lind and a few other people were helping get the crucible ready for the iron to be poured into the scratch plates that were laid out on metal benches.
  "This is an event that has been going on here for probably at least two decades. My predecessor started this and I learned from him. His name was Dan McGuire," said Teresa Lind, a visiting lecturer in the sculpture area in the Department of Art and Design, "He was the sculpture professor before me and my first iron pours were here when I was a student at UW-Oshkosh. I came here and poured iron with him. And so, I'm just carrying on a tradition that was already in place," Professor Lind said.
According to Professor Lind, the fundraising is their only way to make money outside tuition and fees. For an event that happens every two years, it has a big impact on many people who attend it and love sculpting. It creates a way for community members, former students of other Wisconsin colleges, Whitewater alumni and people from other states to get together and bond over something they love.
Alexa Patterson is a fifth year senior and is a Bachelor of Fine Arts major who enjoys sculpting.
"I was here last year in the spring for the annual iron pour at the MakerSpace and I helped with setup and everything but I wasn't in the pour itself and I plan to be today, so that'll be interesting," said Patterson.
According to some of the people who attended, it is something truly addicting that once a person joins, it is hard to leave. It was an event not only for those a part of its community but for other students and community members who wanted to come and join.
Mary Abbott is a UW-Whitewater graduate with a BFA in fine arts painting sculpture who brought her family to the event.
"So, we come together as a family unit afterwards so we don't have the community of the iron pour anymore, we have the community of the family," Abbott said.
There was much excitement among the attendees as they waited for twelve o'clock so they could witness liquid iron metal being poured into the scratch plates. This was to be the highlight of the event people were anxious to see. The next event scheduled for the Iron Pour is this spring at the MakerSpace.