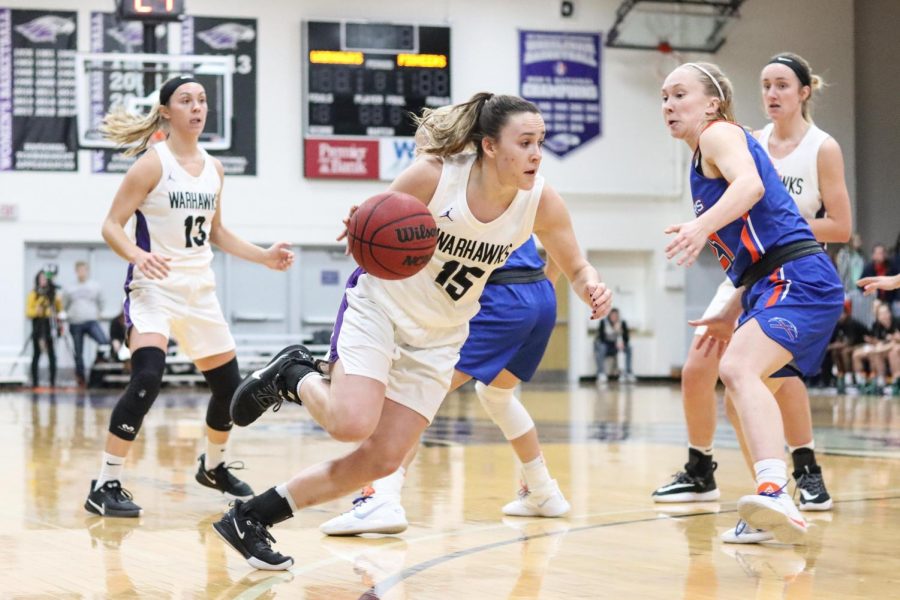 Dane Sheehan
The Warhawk Women's Basketball Team was unable to keep its remarkable winning streak alive because defending conference champion UW-Oshkosh knocked them off, winning 62-51.
After a 67-52 victory over conference rival UW-Platteville (10-8, 2-5 conf.) the Warhawks traveled up to defending conference champion UW-Oshkosh (11-7, 4-3 conf.) on Jan. 25.
The Warhawks had fared well in the first lap around the WIAC schedule, beating every team except Oshkosh. They'll do the circuit again, as the schedule sees a team play each opponent twice, home and away.
As the conference stands, Whitewater boasts the top scoring offense with 70.1 points per game, and the best scoring defense at 52.9 PPG. The team also has the highest free throw percentage in the WIAC at 73.7% and leads in shooting percentage from the floor, making 43.5% of their shots.      The Warhawks also force 5.28 blocks per game, the highest average in the league. Compared to the second-place team, who averages 3.5 blocks, Whitewater's defensive dominance shines through.
The win against UW-Platteville wasn't as straightforward as the final score made it seem. The Warhawks were outscored 8-16 in the second quarter, leading to a five-point deficit heading into halftime.     
Usually the Warhawk offense runs through Aleah Grundahl, the freshman forward who averages 9.6 PPG. However, she picked up two fouls in the game's first three minutes, at which time she scored all three of the Warhawks' points, but had to ride the bench. She only saw the court for about five minutes in the entire first half.
"They matched us physically and they shoved us in the post. They really took away our post game, which we utilize a lot," said assistant coach Kirsten Hammer.       
"We got in foul trouble early, it didn't help we had to combat that."
With Grundahl on the bench and backup Abby Belschner injured in the previous game, head coach Keri Carollo turned to freshman Erika Simmons.
"It feels good knowing that coach has the faith in me to put me in," said Simmons, who usually checks in once the game has already been sealed. She repaid that faith with three boards, one basket and plenty of defensive hustle, which was exactly the role she had been cast.
"She needs to rebound and play defense, and she knows those are her main priorities," said Hammer. "If scoring comes, it comes."
Eventually for the Warhawks, the scoring did come. The second half saw the Warhawks go on to outscore the Pioneers 44-24 and win the game.
Against Oshkosh, everything that could go wrong did. The Warhawks scored just 51 points, their lowest total of the season. They did get forward Abby Belschner back from injury, but she was kept scoreless. The loss leaves the record at 16-2, with plenty of postseason aspirations yet to come.