Greek life rethinks recruitment in pandemic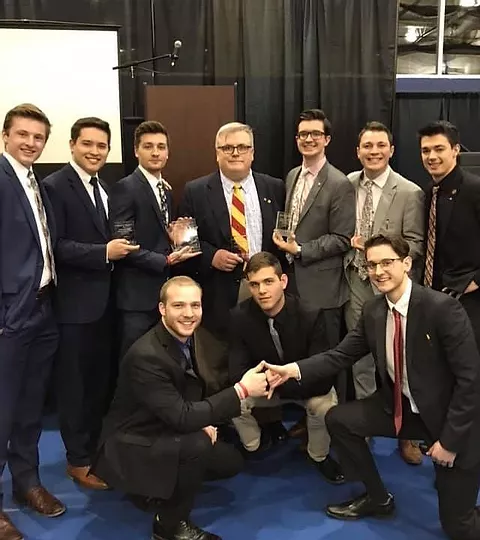 Mac Molli, Journalist
September 20, 2020
Greek Life at UW-Whitewater is venturing into new territory this fall as leaders attempt to recruit new members in the midst of a pandemic and abide by rules and restrictions put in place by local government and the university.
On June 23 the Chancellor's Cabinet released the Warhawk Return Plan, which outlined UW-Whitewater's plan to safely return to school for the fall semester. As of August 2, Wisconsin coronavirus cases surpassed 77,000 according to data from the Wisconsin Department of Health Services (WDHS).
The university has put in place safety measures throughout campus like social distancing, personal protection equipment and sanitization stations. Additionally, all indoor meetings or gatherings will be limited to twenty-five people.
With these restrictions in place, Greek Life on campus is being forced to rethink their recruitment strategies. The beginning of the new school year is a time for the fraternities and sororities on campus to engage with new students and show them the benefits of joining a Greek organization. The Delta Chi Fraternity, winners of their second consecutive President's Cup awarded to the top chapter in the region, and the Tri Sigma Sorority are among the Greek organizations searching for new members.
Recruiters like Jay Taylor of the Delta Chi Fraternity are given the difficult task of preparing and running a new style of recruitment due to the COVID-19 restrictions.
"The main difficulty is only being able to have small groups. Potential new members can only attend one event instead of as many as they want," says Taylor. "It takes away themed rush events so now each event is identical. They can only go to one event to keep numbers under the university and city requirements." Taylor anticipates the move to an entirely online recruitment this semester, which would be a two-week process.
Delta Chi's President, Nick Hamilton, has worked tirelessly on ways to maintain the health and safety of active members and potential new members.
"Our safety precautions require actives to wear a mask and each event will be outside during recruitment." Hamilton adds, "we'll be taking attendance so if an infected individual was present, we can use contact tracing to inform and assist anyone who may have been exposed."
The Tri Sigma Sorority are also actively recruiting by going virtual this recruitment season. Their President, Grace Sinclair, is handling the restrictions,
"We understand the restrictions are put in place for the safety of others, but it's difficult since we have a large house off campus," says Sinclair. "Our recruitment is 100% virtual, so the restrictions have limited the extent of what we would usually be able to do for the campus and our organization."
Since reopening campus, the university has taken serious steps to maintain the health and safety of its students and faculty, including a COVID-19 daily screener to monitor symptoms and potential contact with infected individuals. The town of Whitewater is split between Walworth and Jefferson County, and so far, Walworth County has seen 1,726 cases and Jefferson County has seen under a thousand, according to WDHS.
The Whitewater city council passed a citywide ordinance changing their COVID-19 policy.  "Due to the statewide emergency there is a continuing need to protect all citizens and residents and guests of the City of Whitewater from the risks relating to the COVID-19 pandemic." The Department of Homeland Security (DHS) reported the activity levels of COVID-19 in Jefferson and Walworth Counties and defined 'community spread' of the virus.
Community spread is transmission of an illness for which the source is unknown, meaning that isolation of known areas of infection is no longer enough to control the spread. Additionally, any social gathering, event or convening must contain no more than ten non-household persons indoors or twenty-five outdoors at the same time.
Greek organizations at UW-Whitewater are keen on getting the word out during recruitment to attract potential new members. Given the circumstances of COVID-19, attracting new members to Greek life has proven difficult, but not impossible. These organizations are venturing into uncharted waters with a smaller and largely virtual recruitment experience. They hope potential new members are responsive to the restrictions and have the information they need to confidently progress through the recruitment process.