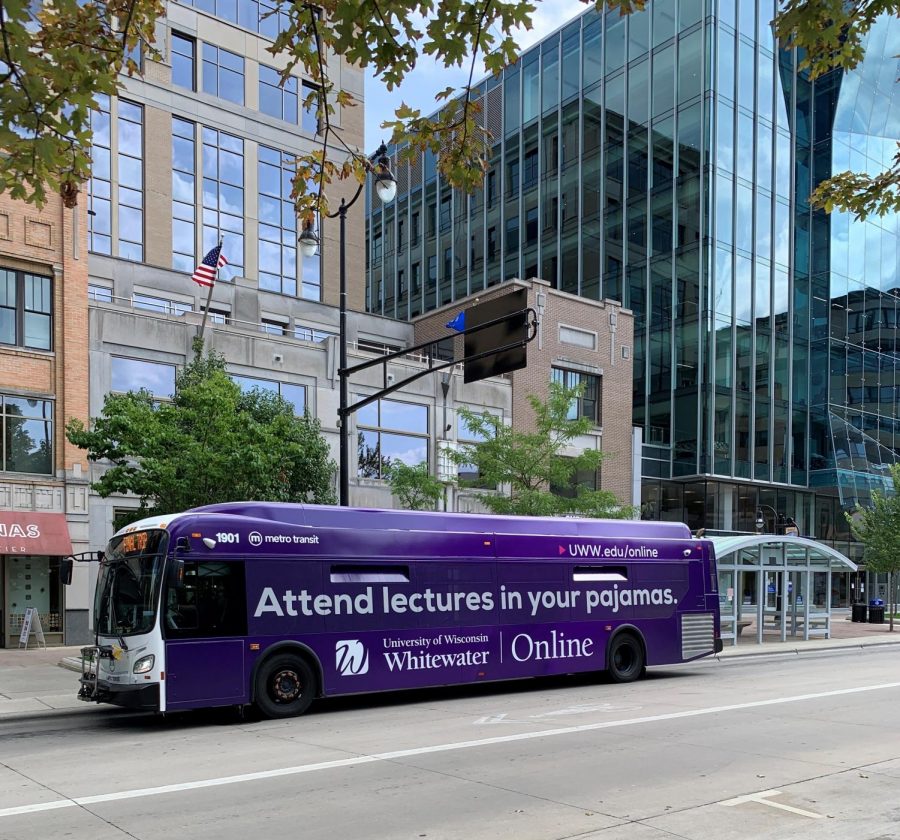 Advertisements for online classes at UW-Whitewater are circling the cities of Madison and Milwaukee on city buses. The ads were created by Shine United, based in Madison, which has hired many UW-Whitewater alumni over the years. Online program enrollment is up since the ads have been on the move. 
"They're a great way to promote the university's online program offerings, including the new fully online master's in communication," said Department of Communication professor Corey Davis.
Jason Jasinski coordinated this project with Shine United. Jasinski started working at UW-Whitewater in July 2016 as the marketing director for the College of Business and Economics. Many other UW-Whitewater employees worked together on this advertising project. Without Jasinski, this project would not have been a success.
"Online programs are being offered at high quality and high flexibility," said Jasinski. This is why UW-Whitewater online programs are so appealing to those with busy lifestyles. Online enrollment at UW-Whitewater has gone up by about 45% since last fall. 
Callie Yeoman is a UWW alumn and previous President of the Whitewater Advertising Association from Burnett, Wisconsin who studied advertising and integrated marketing communications. In 2016, Yeoman graduated with a degree in journalism and was hired at Shine United before graduation. It's now been about four years since Yeoman started working for Shine United. On Aug 3, 2020 Yeoman got promoted to Digital Media Planner/Buyer. Yeoman was the media buyer for this project.
One of Yeoman's professors, Kris Kranenberg, is proud of the accomplishments Yeoman accomplished through her career so far. Kranenberg taught Yeoman in two classes and was her internship advisor. Watching Yeoman become the professional she is today has brought lots of joy into Kranenburg's heart. Kranenburg believes Yeoman's involvement in Whitewater's Communication Department gave her opportunities that helped her get where she is today. Yeoman was involved in the Royal Purple, Commvergence, and Whitewater Advertising Association while she attended UW-Whitewater.
"It's such an incredible feeling to see a former student succeed", said Kranenburg. "It's fun to be able to watch alums as they start their careers and do what makes them happy."
Shine United is a modern advertising company whose headquarters is in downtown Madison, Wisconsin. Their bold and creative approaches to advertising attracted the university's business. Shine United doesn't only do advertising. They also provide services in investment planning, analytics, and more.
These bus wrap advertisements are on Metro Transit buses. Metro Transit bus wrap advertisements are seen by many people. According to the U.S. Census, about 13.1 million rides were given to passengers in 2017. That is only counting the people who ride. There are more people walking on the sidewalk or driving past, which will result with this advertisement in being seen by a large number of potential students. There are also radio, digital, billboard, and other advertisements out there for UW-Whitewater online programs.
If you are interested in online school through UW-Whitewater feel free to visit https://www.uww.edu/online. There are more than 40 bachelor's degrees, graduate's degrees, and certificates available fully online for students.