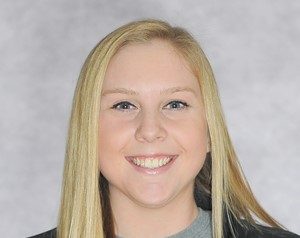 Senior pitcher of the UW-Whitewater Softball team Bella Matthias has had a very accomplishing career during her time playing for the team, earning multiple awards and recognitions while on the field. When the pandemic hit the softball season was canceled, but it has made Matthias and her team more determined than ever.
With this being your senior year and possibly your last year playing college softball, how has the cancelation of the last season affected you personally?
After having last year canceled, I believe our entire team has come back with more determination than ever. Personally, it truly showed me how I cannot take things I love for granted because they can be taken away at any time. I am fortunate enough to possibly have another opportunity at my senior season, so my plan is to take it all in and not leave with any regrets.
As this year looks and operates a little different from previous years, what, if at all, do you do to keep up and sharpen your softball skills?
This year looks a little different for me since I am living back at home while I am student teaching, so I don't get to practice and work out with the team as often. However, I continue to stay active through pitching and working out on my own.
How is the team preparing for the upcoming season even though there is still uncertainty around spring sports?
Since we came back on campus in the fall, our team has been practicing each week in organized practices or on our own. Our team has been trying to take advantage of any nice weather we have to get out on the field and prepare for the spring.
Do you have any goals pertaining to softball, whether on the field or off?
My goal for softball this year is to stay relaxed and have fun. I have been given an extra year to prepare and plan to use it to my advantage.
What are you looking forward to in regard to your softball career here at UW-W?
I look forward to leaving the softball program with great memories and friendships that will last a lifetime. I have loved every part of my journey at UW-W and would not have traded it for the world.
Looking back at the time you've spent playing softball for the UW-W team, what has been your favorite moment so far?
When reflecting back on my time playing softball for the Warhawks, my all-time favorite memory has to be sweeping UW-LaCrosse and UW-Eau Claire in the same weekend to be named 2019 WIAC Conference Champions for the third season in a row. This memory will continue to stick with me because we were coming off a busy week, never gave up as a team, and brought an endless amount of energy to the field and dugout.
What are some things that you will be taking with you from your time on the UW-W softball team?
This sport has brought me life-long friendships, given unforgettable memories, and taught valuable life lessons. I will forever be grateful for the UW-W coaching staff having trust in me, and helping me grow on and off the field.