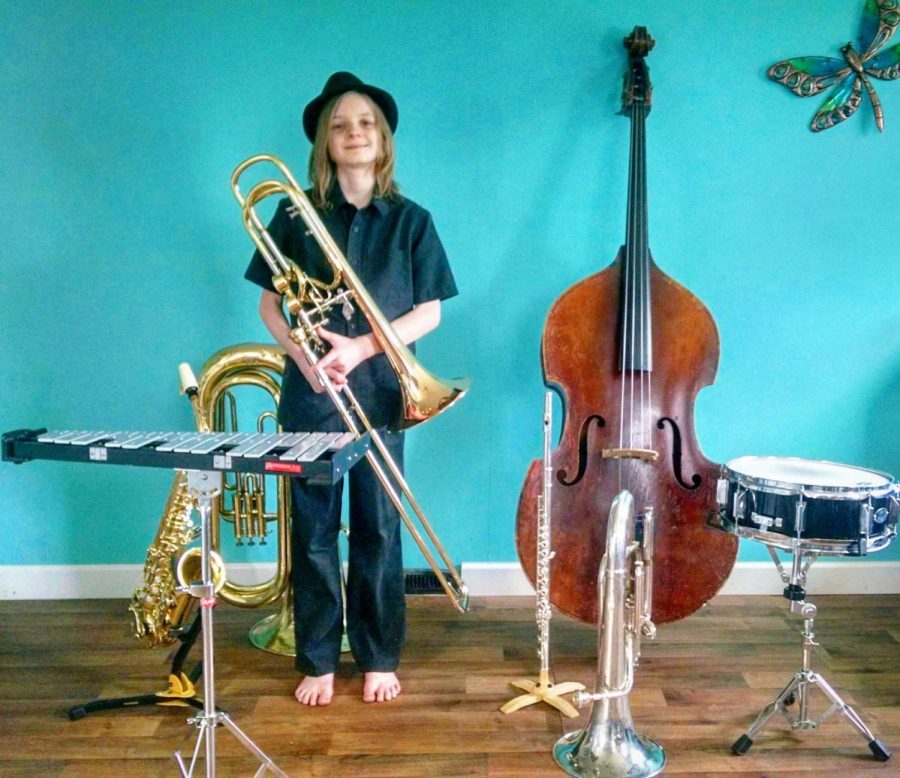 The McDonald Family
In Yellow Springs, Ohio Sean Lee McDonald, now known as Malawi, played several instruments at just 10-years-old. McDonald played instruments such as the flute, bass and the trombone – some instruments that most musicians pick up in high school. 
"Malawi does not wait, and practically practiced until exhaustion," said Jack Burrows, a trombonist at UW-Whitewater, who produced a documentary about McDonald.
When Burrows, a brass musician in UW-Whitewater's Symphony Orchestra, read an article about McDonald, he was taken back by their sudden death, at age 15. This inspired him to produce his second documentary in the fall of 2020. 
"I was happy and sad. I was happy to learn about someone who was a brilliant young bass trombone player. But I was also sad because I learned about them through their obituary. I could have messaged them and said you're a great musician," Burrows said. 
McDonald was in their first symphony gig at age 11 and picked up the flute in the summer of 2013. By 2014 Malawi also played the bass trombone in the community orchestra.      
"Malawi went to radical unschooling. You stay home, you are your own leader, and you decide what to learn on your own time. No math, science, or English. What mattered most was that parents encouraged them to learn," said Burrows. 
McDonald could run the world in their own way and time. And it didn't constrain them to a one-sided view, but rather inspired an open and free outlook toward music. 
"Laura, Malawi's mother, helped and supported their music. And drove them to New York City to see Paul, a Bass Trombonists concert at the Indiana University Jacobs School of Music," said Burrows.
Paul inspired McDonald to stay involved, and because of that they didn't limit their opportunities. They traveled overseas to Europe, Juilliard's International Brass Trombone festival, and jammed with the Best American Craftsman (BAC). 
"Malawi did not care who you were, if they disagreed, or if they ate a hamburger – as Malawi was a vegan. Malawi just accepted you for who you are," said Burrows.
McDonald had this boundless outlook, and this caused Burrows to understand what it means to be human. It is about being open to everyone, living without fear, and growing beyond one's comfort zone. However, at age 15 everything changed her music career.
"When you hit puberty, your chest is supposed to grow out for most people. But for Malawi, their chest folded inward (pectus excavatum) and gives your heart little room to beat," said Burrows.
However, in 2015 they experienced unexplained health issues. Even the doctors couldn't figure out what caused their symptoms. Luckily, Laura's friend had suspicions that McDonald had Ehlers Danlos Syndrome (EDS).
"There are over 12 different classifications of Ehlers Danlos Syndrome (EDS) and it affects you in different ways. Since the body's made of different proteins, if they become deficient it can affect the entire body," said Burrows.
Eventually, McDonald lost their energy, and became too weak to play the trombone. Instead, they tried videography to boost their spirits. However, their strength couldn't keep up anymore, and Malawi Lee McDonald passed away from EDS on Dec. 10, 2018. Burrows' documentary now pays tribute to the passionate life of this talented trombonist.