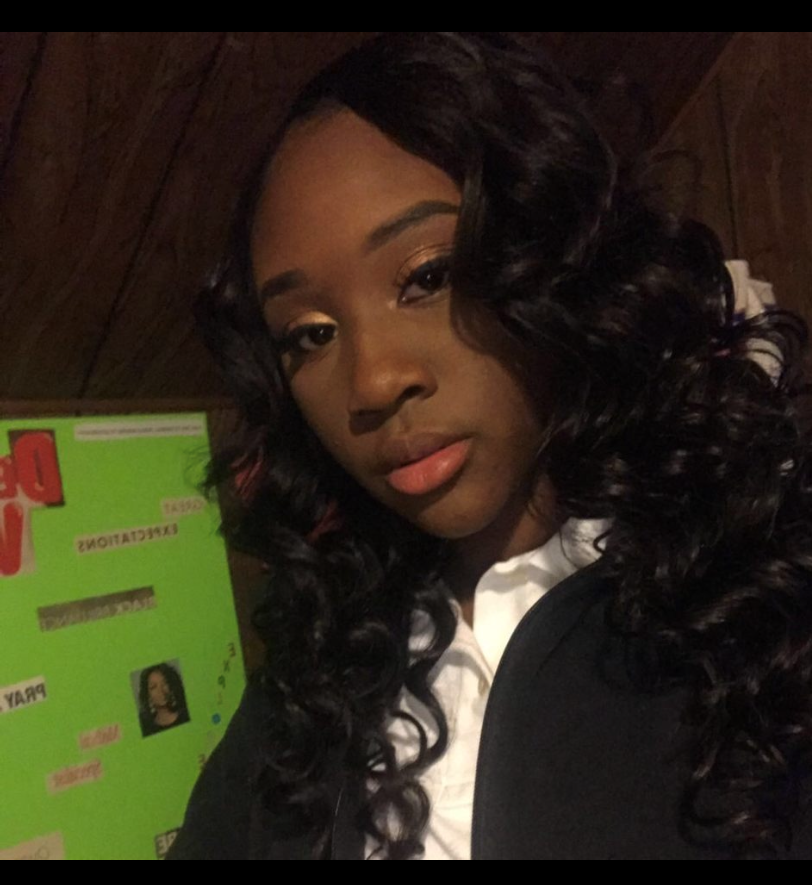 In honor of Dr. Martin Luther King Jr Day the Royal Purple is highlighting a Black female voice on campus to gain understanding about how she feels as a woman of color in our nation today, as well as to gain insight into how her year has gone amongst the Coronavirus chaos. 
Sophomore Chyna Hill-Scanlan is a psychology major at UW-Whitewater who serves on the executive board for Black Student Union ( BSU) as a membership liaison. This spring semester she hopes to become involved in Psychology Club. Before attending UWW she came from her home city of Milwaukee, Wisconsin. 
Who are role models in your life and why?
"I have a few role models in my life that I watch and learn from. For starters, my father is one of the biggest influencers in my life. Knowing the lifestyle he used to live to where he is now, is still amazing to me. He is full of wisdom and experience. I value the major life lessons he taught me. Another person I look up to is my mentor Amarii Hall, UWW Alum and former BSU President. I admire her faith, ambition, her drive to help others succeed, and ongoing positivity. She is one of the few people who calls and gets on my case. She truly holds me accountable whether it's business-related or not."
How do you feel about Black Lives Matter (BLM) as a movement and the recent issues that have arisen in the past year? 
"I have many thoughts in regards to BLM and the issues that have occurred since Summer 2020 and prior to that. Time is moving, but sometimes it just feels like a cycle that needs to stop, the fact that we are still marching and protesting for justice of those slain and brutalized by police is absurd to me. This has been an ongoing issue for decades, and the local/state/national governments hardly do anything. However, I hope the unity among my people continues aside from the troubles we face as a collective. To me, it's a beautiful and powerful thing when we come together to uplift, strengthen and encourage one another. I think it's valuable when we take care of each other."
How has your experience been as a student at UWW? 
"My Whitewater experience has been pretty decent so far. My freshman year was great. I had a lot of fun even though the emergence of COVID-19 cut my year short. My first year was great for me because I had pre-established connections with other students because of Stem Boot Camp and King-Chavez Scholars Program—two summer programs I was involved in. BSU, TIFU Cultural Ensemble, and involvement fairs were also bridges to getting active on campus, meeting new people, and engaging in multiple eye-opening conversations. Now that I am a sophomore, things are conducted differently on campus, and we can't maneuver exactly how we used to. However, many great opportunities are still coming my way. I am able to maintain a balance in my life on and off campus. My academics are looking very well, and I hope to maintain my high GPA."
How has your experience been as a member of BSU?
"Coming in as a BSU member my freshman year, I had a blast and made connections with many other members. Now with limitations due to COVID-19, it's a little harder connecting with others around campus, but we do what we can to make BSU as engaging and exciting as possible."
What is something you want people to know/understand about BSU? 
 "I want people to know that BSU is more than willing to collaborate with other organizations on campus. I think we need to see more org interaction!"
During this past chaotic year what are some takeaways/ lessons you have learned?
"Some takeaways I have learned are that it's important to unplug and detach from social media and television. Do your own reading and research, and value your mental health. Also, there is value in planning ahead because you don't know what is next to come, everything is happening how it's supposed to (not everything is a conspiracy theory) and lastly there is power in the mind and tongue."